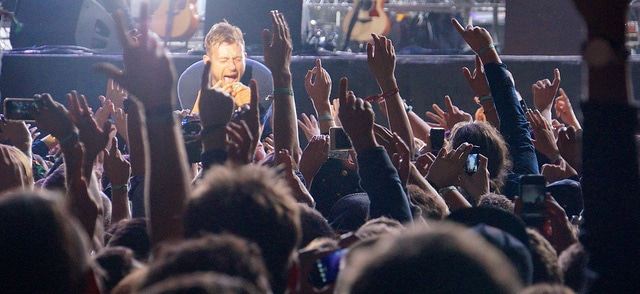 Blur will join Jimmy Fallon on The Tonight Show this Thursday for their first US performance since 2013.
The Britpop icons haven't performed stateside since they headlined Coachella two years ago but they will be the musical guest for Thursday's episode of The Tonight Show Starring Jimmy Fallon. The band will be performing tracks from their brand new album The Magic Whip.
Blur initially parted ways in 2003 after the release of their seventh studio album Think Tank with bassist Alex James admitting; "There came a point around 2003 where we all needed to go off and do our own things and be other people, rather than being this four headed monster. I wouldn't call it animosity, but there was a little bit of ill feeling. We needed time out and to reconcile."
James added that Blur is now like a release for band members saying; "It is very much like a sibling relationship, or marriage. This is a really lovely thing to dip into, because it takes us out of our lives, even though we needed to have lives outside Blur for a while. Now it is the exact opposite. Blur is like a complete release. At this point, which you could probably call our rock gentlemen phase, everything has become very fulfilling and satisfying."
"We need our downtime, but in many ways, nothing has changed too much in 27 years," he concluded. "The crucial difference is that doing all this now is such a complete and utter joy."
To reminisce about the newly reformed band, join Radio Nova this bank holiday weekend for The Essential Blur.
Photo Cred: Marcus Hansson