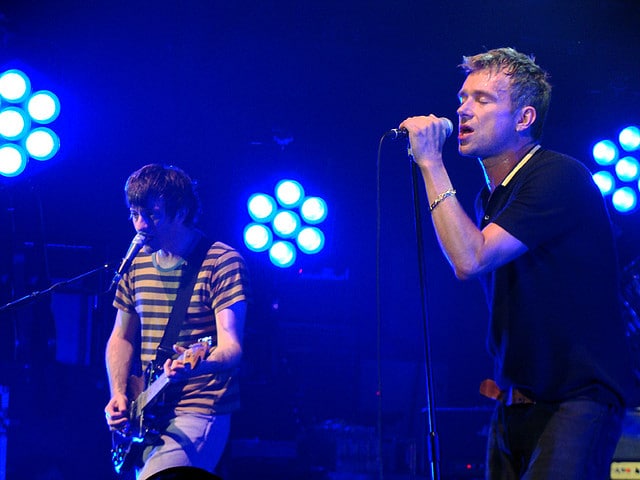 Blur have jumped the gun, releasing another new song from their upcoming album. The new track was expected to debut next week but the britpop lads have decided to put it out today.
The new track is called 'There Are Too Many Of Us'. The video was shot on a smartphone, showing the four members cramped together in a small room.
The new album titled The Magic Whip is coming out on April 27th 2015, it will be the band's first album in twelve years.
Blur's last album Think Tank came out in 2003, after which each of the members went their separate ways, to relax, regroup and work on other projects.
Blur are playing a special concert tonight in London, showcasing the upcoming record The Magic Whip. Footage of the gig will be available to stream next Wednesday 25th March.
Speaking to the Guardian about the LP, drummer Dave Rowntree said: "If the music is good everything else follows quite naturally from it. We were all concerned that if we came back with something substandard … it had to be very confident and [we needed to] think it was one of the best things, if not the best thing we've done. Otherwise there's no point. There's no point in coming back with a mediocre album after all this time."
Dave's favourite track on the LP is: "Pyongyang. It's really beautiful. It's very hard especially at this stage to have a top-10 list of things. It's still very fresh."
Speaking about the recording process, the drummer said: "Yeah, we did five days in Hong Kong and that all seemed to go very well. But it wasn't until Graham picked up the ball and ran with it and got Stephen Street involved. They did some editing and production work on it and then sent around the initial tracks to everybody to show us what we'd done and we all realised we'd done something quite special."
"It was very hard at the time while you're in the midsts of recording to know what you've actually done. There were 18 months or so that allowed us to have a bit of perspective on it and allowed Graham and Stephen to do that work and then play it to us. That was the time everyone got very excited about it, and we realised we were actually a lot closer to it than we thought. It's actually going to be really good."
The Magic Whip was recorded in Hong Kong and features twelve new tracks, it's expected to be released in Ireland on April 24th 2015.
Listen to the first preview track 'Go Out' here.
The Magic Whip track list:
Lonesome Street
New World Towers
Go Out
Ice Cream Man
Thought I Was a Spaceman
I Broadcast My Terracotta Heart
There are Too Many of Us
Ghost Ship
Pyongyang
Ong Ong
Mirror Ball