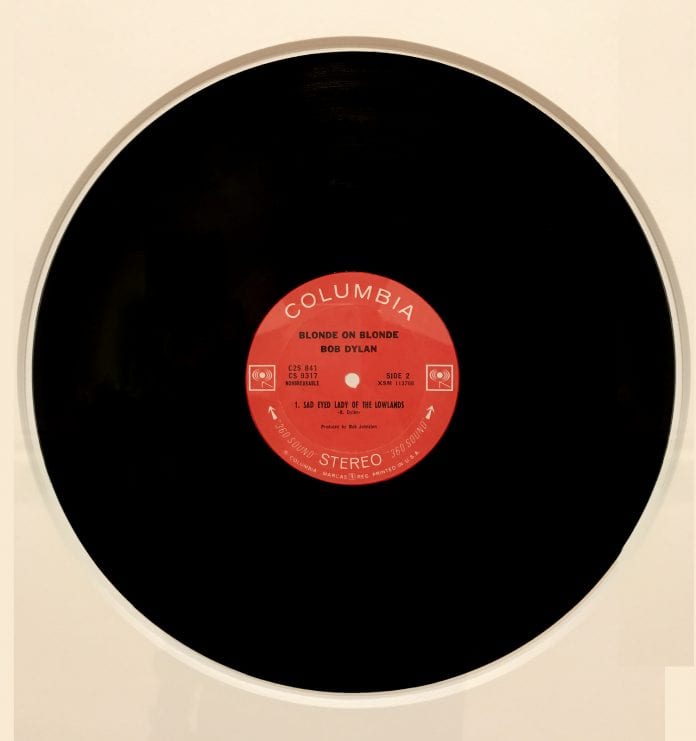 Blonde on Blonde is the seventh studio album by American singer-songwriter Bob Dylan, released on May 16, 1966 on Columbia Records. Recording sessions began in New York in October 1965 with numerous backing musicians, including members of Dylan's live backing band, The Hawks.
Though sessions continued until January 1966, they yielded only one track that made it onto the final album—"One of Us Must Know (Sooner or Later)". At producer Bob Johnston's suggestion, Dylan, keyboardist Al Kooper, and guitarist Robbie Robertson moved to the CBS studios in Nashville, Tennessee. These sessions, augmented by some of Nashville's top session musicians, were more fruitful, and in February and March all the remaining songs for the album were recorded.
Blonde on Blonde completed the trilogy of rock albums that Dylan recorded in 1965 and 1966, starting with Bringing It All Back Home and Highway 61 Revisited. Critics often rank Blonde on Blonde as one of the greatest albums of all time. Combining the expertise of Nashville session musicians with a modernist literary sensibility, the album's songs have been described as operating on a grand scale musically, while featuring lyrics one critic called "a unique blend of the visionary and the colloquial". It was one of the first double albums in rock music.
The album peaked at No. 9 on the Billboard 200 chart in the USA, where it eventually went double-platinum, and reached No. 3 in the UK. Blonde on Blonde spawned two singles that were top twenty hits in the USA: "Rainy Day Women ♯12 & 35" and "I Want You". Two further songs, "Just Like a Woman" and "Visions of Johanna", have been described as among Dylan's greatest compositions and were featured in Rolling Stone's 500 Greatest Songs of All Time list.
After the release of the Highway 61 Revisited in August 1965, Dylan set about hiring a touring band. Guitarist Mike Bloomfield and keyboard player Al Kooper had backed Dylan, both on his new album and at Dylan's controversial electric debut at the 1965 Newport Folk Festival. Bloomfield chose not to tour with Dylan, preferring to remain with the Paul Butterfield Blues Band. After backing him at concerts in late August and early September, Kooper informed Dylan he did not wish to continue touring with him. Dylan's manager, Albert Grossman, was in the process of setting up a gruelling concert schedule that would keep Dylan on the road for the next nine months, touring the USA, Australia, and Europe. Dylan contacted a group who were performing as Levon and the Hawks. The Hawks comprised four Canadian musicians: Robbie Robertson, Rick Danko, Richard Manuel, and Garth Hudson, plus Levon Helm from Arkansas. They had come together as a band in Canada, backing American rocker Ronnie Hawkins. Two people had strongly recommended the Hawks to Dylan: Mary Martin, the executive secretary of Albert Grossman, and blues singer John Hammond, Jr., son of record producer John Hammond, who had signed Dylan to Columbia Records in 1961. The Hawks had backed the younger Hammond on his 1965 album So Many Roads.
Dylan rehearsed with the Hawks in Toronto on September 15, where they were playing a hometown residency at Friar's Club, and on September 24, they made their debut in Austin, Texas. Just two weeks later, encouraged by the success of their Texas performance, Dylan took the Hawks into Studio A of Columbia Records in New York City. Their immediate task was to record a hit single as the follow-up to "Positively 4th Street". But Dylan was already trying to formulate the shape of his next album, the third he had begun that year backed by rock musicians.
Dylan mixed the album in Los Angeles in early April, before he departed on the Australian leg of his 1966 world tour. Wilentz writes that it was at this point it became "obvious that the riches of the Nashville sessions could not fit onto a single LP", and they had "produced enough solid material to demand an oddly configured double album, the first of its kind in contemporary popular music." According to producer Steve Berkowitz, who supervised the reissue of Dylan's LPs in mono as The Original Mono Recordings in 2010, Johnston told him that they carefully worked on the mono mix for about three or four days whereas the stereo mix was finished in about four hours.
Al Kooper recalled that both the album title, Blonde on Blonde, and song titles arrived during the mixing sessions. "When they were mixing it, we were sitting around and Bob Johnston came in and said, 'What do you want to call this?' And [Bob] just like said them out one at a time… Free association and silliness, I'm sure, played a big role." Another Dylan chronicler, Oliver Trager, notes that besides spelling out the initials of Dylan's first name, the album title is also a riff on Brecht on Brecht, a stage production based on works by German playwright Bertolt Brecht that had influenced his early songwriting. Dylan himself has said of the title: "Well, I don't even recall exactly how it came up, but I know it was all in good faith… I don't know who thought of that. I certainly didn't."
According to author Andy Gill, by starting his new album with what sounded like "a demented marching-band…staffed by crazy people out of their mind on loco-weed", Dylan delivered his biggest shock yet for his former folkie fans. The elaborate puns on getting stoned combine a sense of paranoiac persecution with "nudge-nudge wink-wink bohemian hedonism". Heylin points out that the Old Testament connotations of getting stoned made the Salvation Army-style musical backing seem like a good joke. The enigmatic title came about, Heylin suggests, because Dylan knew a song entitled "everybody must get stoned" would be kept off the airwaves. Heylin links the title to the Book of Proverbs, chapter 27, verse 15: "A continual dropping in a very rainy day and a contentious woman are alike." Released as a single on March 22, 1966, "Rainy Day Women" reached No. 2 on the Billboard singles chart, and No. 7 in the UK.
The cover photo of Blonde on Blonde shows a 12-by-12 inch close-up portrait of Dylan. The double album gatefold sleeve opens to form a 12-by-26 inch photo of the artist, at three quarter length. The artist's name and the album's title only appear on the spine. A sticker was applied to the shrink wrap to promote the release's two hit singles, "I Want You" and "Rainy Day Women #12 & 35".
The cover shows Dylan in front of a brick building, wearing a suede jacket and a black and white checkered scarf. The jacket is the same one he wore on his next two albums, John Wesley Harding and Nashville Skyline.
The original inside gatefold featured nine black-and-white photos, all taken by Schatzberg and selected for the sleeve by Dylan himself.A shot of actress Claudia Cardinale from Schatzberg's portfolio was included but later withdrawn because it had been used without her authorization and Cardinale's representatives threatened to sue, making the original record sleeve a collector's item. Dylan included a self-portrait by Schatzberg as a credit to the photographer. The photos, for Gill, added up to "a shadowy glimpse of [Dylan's] life, including an enigmatic posed shot of Dylan holding a small portrait of a woman in one hand and a pair of pliers in the other: they all contributed to the album's air of reclusive yet sybaritic genius."
The dating of the album's release is uncertain. May 16, 1966 has been widely accepted as the official release date; however, Michael Gray, author of The Bob Dylan Encyclopedia, disputes this. Gray maintains the earliest Blonde on Blonde was available was late June or early July. This coincides with the album's promotion in Billboard, which carried a full-page Columbia advertisement on June 25, selected the album as a "New Action LP" on July 9, and ran a review and article on July 16. The album debuted on Billboard's Top LP's chart on July 23—just six days before Dylan's motorcycle accident in Woodstock removed him from public view. Clinton Heylin argues that early July is the probable release date, stating that an overdub on "Fourth Time Around" was recorded in June. Blonde on Blonde has been described as rock's first studio double LP by a major artist.
Blonde on Blonde reached the Top 10 in both the US and UK album charts, and also spawned a number of hits that restored Dylan to the upper echelons of the singles charts. In August 1967, the album was certified as a gold disc.
The album received generally favorable reviews in 1966. For Pete Johnson in the Los Angeles Times, "Dylan is a superbly eloquent writer of pop and folk songs with an unmatched ability to press complex ideas and iconoclastic philosophy into brief poetic lines and startling images." The editor of Crawdaddy!, Paul Williams, reviewed Blonde on Blonde in July 1966: "It is a cache of emotion, a well handled package of excellent music and better poetry, blended and meshed and ready to become part of your reality. Here is a man who will speak to you, a 1960s bard with electric lyre and color slides, but a truthful man with x-ray eyes you can look through if you want. All you have to do is listen."
The achievement of Blonde on Blonde seems to have lingered in Dylan's memory. Twelve years after its release, Dylan said: "The closest I ever got to the sound I hear in my mind was on individual bands in the Blonde on Blonde album. It's that thin, that wild mercury sound. It's metallic and bright gold, with whatever that conjures up." For critics, the double album was seen as the last installment in Dylan's trilogy of mid-1960s rock albums. As Janet Maslin wrote, "The three albums of this period—Bringing It All Back Home and Highway 61 Revisited both released in 1965, and Blonde on Blonde from 1966—used their electric instrumentation and rock arrangements to achieve a crashing exuberance Dylan hadn't approached before." Mike Marqusee has described Dylan's output between late 1964 and the summer of 1966, when he recorded these three albums, as "a body of work that remains unique in popular music." For Patrick Humphries, "Dylan's body of work during the 14-months period…stands unequalled in rock's 30-year history. In substance, style, ambition and achievement, no one has even come close to matching Bringing It All Back Home, Highway 61 Revisited and Blonde on Blonde."
Blonde on Blonde has been consistently highly placed in polls of the greatest albums of all time. In 1974, the writers of NME voted Blonde on Blonde the No. 2 album of all time. Demonstrating the transitory nature of such polls, in 1997 the album was placed at No. 16 in a "Music of the Millennium" poll conducted by HMV, Channel 4, The Guardian and Classic FM. In 2006, TIME magazine included the record on their 100 All-TIME Albums list. In 2003, the album was ranked No. 9 on Rolling Stone magazine's list of the 500 greatest albums of all time. In 2004, two songs from the album also appeared on the magazine's list of the 500 greatest songs of all time: "Just Like a Woman" ranked No. 230 and "Visions of Johanna" No. 404.
Track listing
All songs written by Bob Dylan.
Side one
"Rainy Day Women ♯12 & 35"  – 4:36
"Pledging My Time"  – 3:50
"Visions of Johanna"  – 7:33
"One of Us Must Know (Sooner or Later)"  – 4:54
Side two
"I Want You"  – 3:07
"Stuck Inside of Mobile with the Memphis Blues Again"  – 7:05
"Leopard-Skin Pill-Box Hat"  – 3:58
"Just Like a Woman"  – 4:52
Side three
"Most Likely You Go Your Way (And I'll Go Mine)"  – 3:30
"Temporary Like Achilles"  – 5:02
"Absolutely Sweet Marie"  – 4:57
"4th Time Around"  – 4:35
"Obviously 5 Believers"  – 3:35
Side four
"Sad Eyed Lady of the Lowlands"  – 11:23
Photo Credit: Simon Murphy