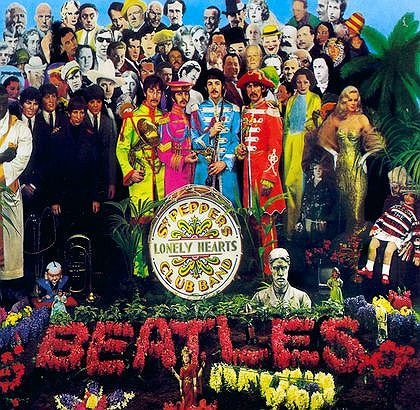 The Beatles will celebrate the 50th anniversary of their groundbreaking album Sgt. Pepper's Lonely Hearts Club Band with several reissue packages arriving May 26th.
A new stereo mix of the album will be available as a single CD and as part of every other package. An expanded deluxe edition will be released digitally, as a two-CD set or two-LP vinyl package. A super deluxe six-disc box set will also be available.
All three deluxe editions of Sgt. Pepper are jam packed with some really cool extras, such as previously unreleased complete takes of all 13 album tracks; new stereo mixes: a previously unreleased instrumental take of "Penny Lane" AND two unreleased takes of "Strawberry Fields Forever."
Released in June 1967, Sgt. Pepper's Lonely Hearts Club Band was the eighth studio album by the Fab Four; including songs such as "With a Little Help from My Friends", "Lucy in the Sky with Diamonds", and "A Day in the Life". Continuing the artistic maturation seen on the band's album Revolver (1966), Sgt. Pepper further departed from the conventional pop rock idiom of the time and incorporated balladry, psychedelic, music hall, and symphonic influences. During the Sgt. Pepper sessions, the group improved upon the quality of their music's production while exploring experimental recording techniques. It was a record that broke the mould and changed music forever.
The new super deluxe box set also promises fans 33 more recordings from the Sgt. Pepper sessions, most of which have never been released. And for the true Beatles memorabilia collector, the super deluxe package comes with a 144-page hardcover book featuring a new introduction from Paul McCartney and producer Giles Martin. The book will explore the ins and outs of Sgt. Pepper, from its songs and legendary cover art to musical innovations and historical context.
The band's home city of Liverpool is also set to celebrate the 50th anniversary. A week long big bash will be held this Summer for its most famous sons this summer.
The festival is split into two halves, one for each side of the LP. The first event, a Mark Morris Dance Group staging, will take place from May 25-27, with the rest of the side A events running from June 1-5.
Side B will follow from June 8-11, with the final event – based on the closing track 'A Day in the Life' – bringing celebrations to an end on June 16.
Picture Credit: Paille