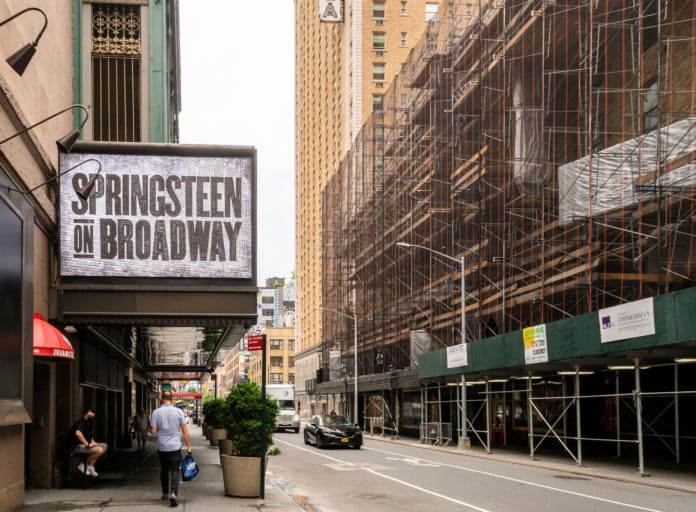 Bruce Springsteen made his widely acclaimed return to Broadway this week to reprise his role in "Springsteen on Broadway." As part of his return, Springsteen spoke out about his mother, Adele Springsteen, and her battle with Alzheimer's disease.
Springsteen spoke emotionally about his mother's early impact on his career as a musician by suggesting that it was her love of music and dancing that encouraged a seven-year-old Bruce to pick up a guitar.
"My mother loves to dance," said the New Jersey native during his performance this Thursday. "She grew up in the '40s…(with) the big bands and the swing bands, and that was a time when dancing was an existential act."
"She's 95 and she's ten years into Alzheimer's and that's taken a lot from us, but the need to dance hasn't left her," he added.
Despite the obvious challenges of his mother's illness, Springsteen expressed gratitude that his mother still recognizes him for the moment.
"She can't speak. She can't read. She can't feed herself. But when she sees me, there is always a smile. Still a smile. And there's still a kiss. And there's still a sound which sh makes when she sees me. It's just the sound but I know it means 'I love you'" Springsteen said.
"And when I put on Glen Miller and she starts moving in her chair -she does, she does – she starts reaching out for me, to take her in my arms once more and to dance with her across the floor."
"This is an essential part of mom's spirit, it's who she is. It's beyond language and it's more powerful than memory. It's the embodiment. This is what she has put her trust in and lived by and which, despite all she has suffered, she carries on with to this moment, as if life's beauty never deserted her. I love her," he continued.
During the show Springsteen also recalled his relationship with his late father, Douglas Springsteen, who passed away in 1998. While he and his father did not always see eye to eye, Springsteen told the audience that his father was nonetheless "his hero."
Springsteen's "Springsteen on Broadway" concert is the first full-capacity show to return to the New York City theatre scene since the coronavirus pandemic shut down shows 15 months ago. The show will feature 26 dates running through September reprising Springsteen's 2017 show, though certain changes have been made to reflect post-COVID audiences.
During the hiatus from performing due to the pandemic, Springsteen told audiences that he has used the time to release an album, publish a book, and start a podcast with former President Barack Obama. He encouraged fans to stay positive and productive, even when things seem bleak.
"Remember that the future is not yet written, so when things look dark, do as my mighty mother would insist: Lace up your dancing shoes, get on the flood and get to work," he concluded.