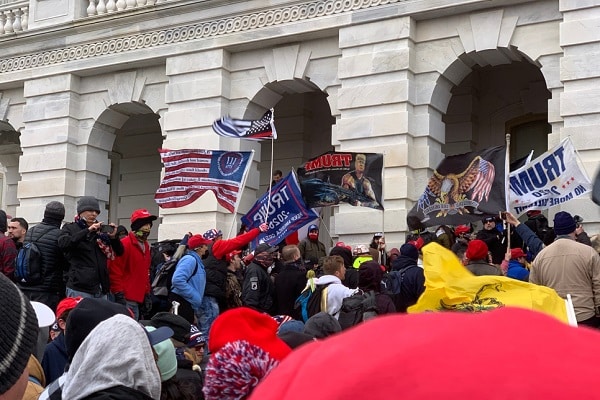 Musicians and prominent figures around the globe have spoken up about the recent rioting at the US Capitol building in Washington. Events such as physical encounters with police proceeded after an angry mob pushed through barriers and swarmed the building, shortly after 1PM ET.
Donald Trump's Facebook and Twitter accounts were suspended after the Capitol riots, with Twitter describing the tweets as "severe violations of our Civic Integrity policy".
The whole world looked on in complete shock at the events which unfolded in the Capitol last night, and many vented their shock and outrage on social media. Almost all comments were negatively directed at Donald Trump, condemning the president for being responsible in many ways.
Some people held Trump responsible for the violence stowed upon the Capitol building, and for stoking the flames in his "go home" speech. While others compared the tame law enforcement response to last year's Black Lives Matter protests. Some social media users spoke of invoking the 25th amendment.
A wave of angry voices is emerging from the music world where artists like Tom Morello, Sebastian Bach, Tommy Lee and many, many more expressing their shock and disappointment.
Tommy Lee expressed his feelings towards Trump in a tweet directed the president's way. The drummer demanded, "tell your covidiots to go home…its a wrap, ya'll lost". Tom Morello highlighted a looter stealing a podium from inside the U.S. Capitol and not "getting shot, tear gassed, or thrown in an unmarked police van. #MakesYaThink"
Former rapper Ice T suggests "imagining for a second" if it was not white people storming the Capitol by writing, "if BLM tried this BS.. Just sayin." Meanwhile, Stevie Wonder tweeted that it is time for the leaders to "invoke the 25th Amendment". The singer said he was "sad with disbelief with what is happening".
Former Skid Row lead singer Sebastian Bach praised president-elect Joe Biden for "having a brain". He also called Senator Ted Cruz's "one of the stupidest pieces of **** that ever walked the Earth." Senator Cruz came under fire from Bach for his call for the storming of the Capitol to stop with the singer writing, "These people are here to support you, you ******* idiot."
Kiss singer-guitarist Paul Stanley tweeted, "These are TERRORISTS!!. This is armed insurrection. The flames were fanned today & over time by the president & specific senators who CANNOT be allowed now to distance from or denounce what they have directly caused. Know their names. THIS is the result of their deception. Shame."
Wednesday's events at the Capitol Building shook more than just the music industry, with world leaders labelling it 'disgraceful' and 'distressing'. According to a spokesperson, UN Secretary-General Antonio Guterres "is saddened by the events at the US Capitol".
Prime Minister Benjamin Netanyahu said storming the Capitol Building was "a disgraceful act that must be vigorously condemned". British Prime Minister Boris Johnson was in shock as he tweeted, "Disgraceful scenes in US Congress. The United States stands for democracy around the world," said the British PM, "and it is now vital that there should be a peaceful and orderly transfer of power."
Meanwhile, Ireland's Foreign Minister Simon Coveney called the scenes in Washington's Capitol Building "a deliberate assault on Democracy by a sitting president & his supporters, attempting to overturn a free & fair election!" Mr Coveney warned "the world is watching" and hopes for the "restoration of calm."