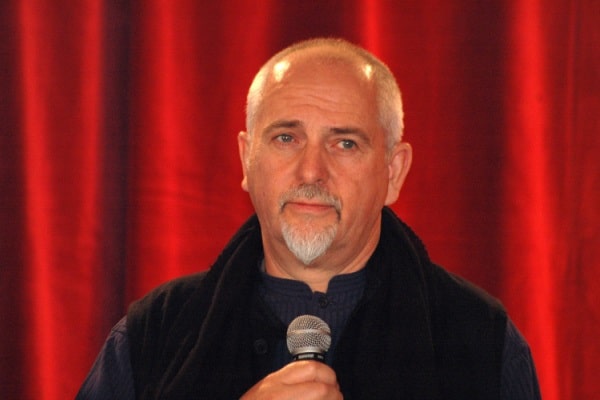 Would you like to listen to the article instead of reading it?
Once again in line with this month's full moon, Peter Gabriel released his latest single 'So Much'.
This track which you can check out below, will feature on the former Genesis singer's album 'I/o'.
Gabriel has already released singles, 'Playing For Time', 'Panopticom', and 'The Court'. More on this here.
"substance to the harmony"
Speaking about the track, Peter Gabriel released this statement.
"I was trying purposefully not to be clever with this", he explained. "I wanted to get a very simple chorus but one which still had some substance to the harmony and melody. Something that was easy to digest but still had a bit of character to it".
Peter Gabriel also added, "So Much is about mortality, getting old, all the bright, cheerful subjects, but I think when you get to my sort of age, you either run away from mortality or you jump into it and try and live life to the full and that always seems to make a lot more sense to me. The countries that seem most alive are those that have death as part of their culture".
The singer also explained his choice of title for the track.
"The reason I chose So Much as a title is because I'm addicted to new ideas and all sorts of projects. I get excited by things and want to jump around and do different things. I love being in a mess of so much! And yet it also means there's just so much time, or whatever it is, available. Balancing them both is what the song is about", he revealed.
"intricate with plasticine"
Elsewhere, Peter Gabriel also spoke about the artwork for this single, also includes contributions from artist Henry Hudson.
"I started looking at Henry's work and thought it was great", he said. "He's done some dense and intricate work with plasticine, but then he also has this other more expressionist, horizon work with different colours and they're very simple and pure. I connected quite strongly with him".
"The works where Henry's got horizons are minimalist in a way. They are quite layered and there's a physicality or three-dimensional element to the way he puts the work together. The idea of cutting the horizon in a different colour, in this case he wanted it to be yellow, and then effectively letting it bleed onto the painting I thought was beautiful and powerful".
"In the one sense, the horizon is the infinite but it's also the limit. It had some good symbolism. I think it's a great piece of work".
'So Much' will also feature mixes from Tchad Blake (Dark-Side Mix), as well as Mark 'Spike' Stent (Bright-Side Mix) and Hans-Martin Buff's Atmos mix (In-Side Mix), arriving later this month.
"One of the privileges of working with these extraordinary mixers is that they bring personality, sound textures, pictures, environments out of the elements that you throw at them that have strong individual characters", Peter Gabriel also added. "You can really hear what these very smart people are doing".
This track comes as Peter Gabriel concludes his live shows across the UK, his first set of shows in a decade. More on this here.