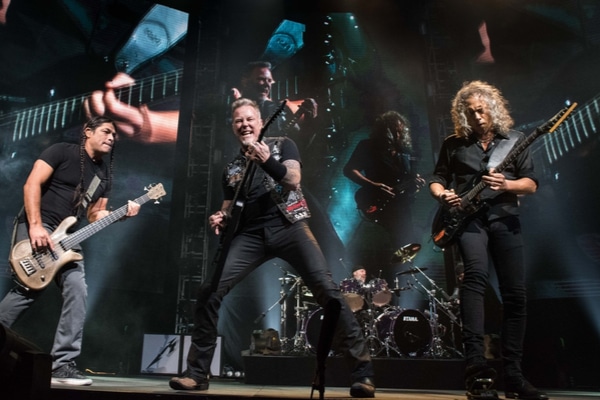 Metallica have now shared a trailer for their photo book, The Black Album in Black & White. 
This book has been produced in collaboration with photographer Ross Halfin. This also continues the 30th anniversary celebrations of the Black Album which was originally released in 1991.
The book also features images of Metallica working behind the scenes on the self titled debut album.
Metallica: The Black Album in Black & White
The Black Album in Black & White features previously unpublished photographs of Metallica. These include in the studio shots and images from the 300 date tour that followed the album's release in the early 90s.
The book's trailer also features introductions from James Hetfield, Kirk Hammett, Ross Halfin, Lars Ulrich, James Newsted and Robert Trujillo.
They also performed on the Metallica tour at the time with Trujillo's band Suicidal Tendancies. 
The book was also described as, "an epic celebration of one of rock's most legendary albums".
Check out the trailer below.
On the book, Lars Ulrich of Metallica also had this to say.
"By the time the songs and the recording were coming together, the confidence level was at an all-time high and we felt better than ever about who we were and how we viewed ourselves with regards to being photographed". 
Speaking earlier this month, Lars Ulrich said that there has been "nothing cohesive" in the way of new music coming from the band.
"I mean, listen, we haven't been out of the house for a year and a half, and so it's very rejuvenating", Ulrich said.
He also added,  "I know everybody's had a different version of obviously the last 18 months. It's impacted all of us in different ways, but sitting still, as you know, is not my forte. And so, just getting out again and getting amongst it is so fucking re-energising. And the last couple of days, like James [Hetfield] said earlier, celebrating the legacy of [the 'Metallica' album] and so on is… It's kind of cool, but still it's a little like, "Okay, well what's about the future?" What about the future? I just get too". 
More on this here.