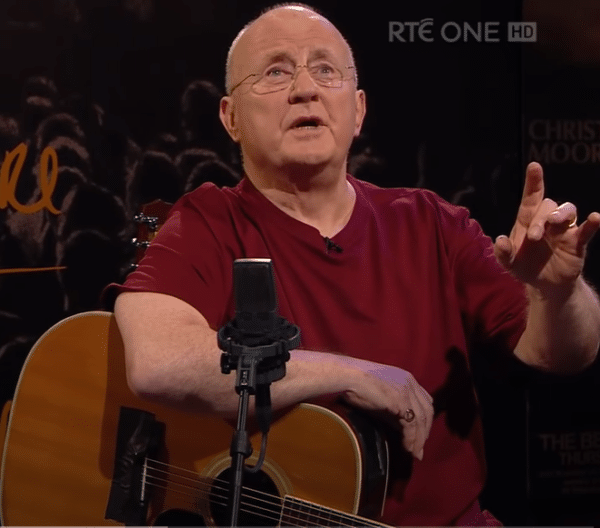 Christy Moore is a national treasure ,music icon, a legend take your pick. However, the singer pays little or no heed to these titles.
Moore was speaking, following the release of a music compilation called Christy Moore: The Early Years 1969-1981. The package is availabe on DVD, Vinyl and CD. It features recordings from his first 6 albums, EPs as well as rare TV performances.
On being hailed as a legend or icon, Moore said, "To tell you the truth, they are just words that get thrown around very easily".
He added, "It doesn't impact in any way upon me. I don't pay any heed to it". Still as humble as ever. Moore has carried around that humility his entire life including his career. Like his song Ordinary Man's lyrics read, "I've had to work for everything I own".
Christy Moore's Early Life:
The love and respect that Moore has for his mother Nancy who raised him single-handedly along with five other children was clear. His father Andy had passed away suddenly at the age of 41. His mother passed away in 1992.
"I can't imagine what course my life would have taken without my mother's guiding hand" Moore insisted.
On his father's passing, "He went in to have an ingrown toenail removed and never came home. He died under the anaesthetic. I was 11 and the eldest of six. Luka (the singer Luka Bloom) was the youngest, only 6 months old".
After finishing school, Christy Moore began working in the National Bank from 1963 to 1966. On working there, Moore had several difficult moments, "I certainly encountered lows during the office hours, but as soon as I got out the door, I became a a full-on fledging ballad singer around the towns".   
Career:
Moore explains, "The bank manager in Clonmel called me aside one morning . He told me that my night time pub singing was noted and disapproved. He suggested I take up bridge or golf. I took the boat instead". 
Christy Moore than became in his own words, "an apprentice folk singer in London". He recalls, "I had nothing but a basket of songs, a guitar, a sleeping bag and a head full of determination. I was mostly completely broke, living hand to mouth trying to get the start, but I was experiencing new sounds, singers and clubs".  
It was the beginning of a very succesful career for Moore, which has even included a funny anecdote involving Ed Sheeran! See here.
On turning 75, Moore admitted, "There are times when it hits you".
He has admitted Covid-19 has made things difficult. "But on stage I'm grand", he insisted.
"I did 3 songs in Vicar Street recently with my son Andy for a streamed gig that is going out shortly. It was great to be back up singing with the road crew around me. Once I'm on safe ground sitting behind a guitar, nothing really affects me. Not even age or Covid".