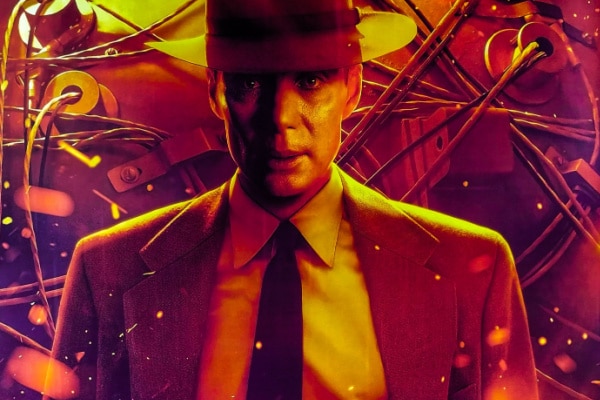 Would you like to listen to the article instead of reading it?
Oppenheimer star Cillian Murphy has revealed that his wardrobe for the movie was inspired by David Bowie from the Thin White Duke era.
Irish actor Murphy plays J Robert Oppenheimer aka 'father of the atomic bomb' in the new blockbuster, which came out last Friday.
The actor stars alongside Matt Damon, Emily Blunt, Robert Downey Jr and others.
Murphy Wanted To "get that silhouette right"
Speaking in a fresh interview, Cillian Murphy revealed that his wardrobe for this film was inspired by David Bowie's Thin White Duke era, one of the late singer's many personas.
This persona was adopted by Bowie between in 1975 and 1976, with his ninth studio album 'Young Americans' arriving in March 1975.
"We worked very closely with our costume designer to design the clothes", Murphy explained. "And particularly, I wanted to get his silhouette. He was very fragile, he was very, very slim and I wanted to get that silhouette right".
Murphy continued, "Chris sent me a couple of shots of David Bowie, certain periods in David Bowie's career, like Thin White Duke and around 'Young Americans' time".
"He had these massive trousers and he was so emaciated but so f*****8 cool", the Peaky Blinders star added. "So we used that, weirdly, for some of Oppenheimer's trousers".
In other interviews, Cillian Murphy also spoke about feeling the pressure to lose weight in order to capture the weight of playing Oppenheimer.
"I love acting with my body, and Oppenheimer had a very distinct physicality and silhouette, which I wanted to get right", Murphy had said previously.
He also added, "I had to lose quite a bit of weight, and we worked with the costume and tailoring; he was very slim, almost emaciated, existed on martinis and cigarettes," Murphy said. "He had these really bright eyes and I wanted to give him this wide-eyed look, so we worked on his silhouette and expressions a lot before starting".
Oppenheimer is in cinemas now.