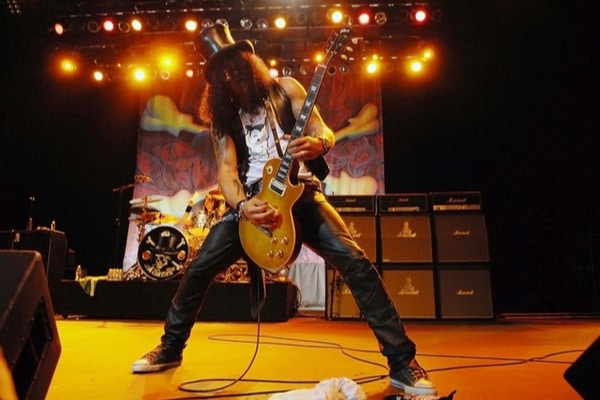 Would you like to listen to the article instead of reading it?
Slash has stated that he does not foresee a Guns N'Roses biopic anytime soon.
The legendary Guns N'Roses guitarist made these comments in a recent interview, where he admitted he is not a big fan of biopics generally.
"I just don't see it happening anytime in the foreseeable future", was the guitarist's response to be asked about the possibility of a GnR biopic.
This comes just weeks after Slash revealed that he featured in the soundtrack for the recent Barbie movie. Find out more here.
"fabricated"
While he refused to rule out the possibility of a Guns N'Roses biopic in the long term future, Slash did admit that he is not a fan.
"It doesn't mean that it won't happen ever, because who knows? I can only think down the line so far. But I've never been able to envision how you're gonna get", Slash said.
"I mean it's one thing to try and find actors to represent the people in the band, but the other thing is all sort of theatrical depictions of life in the music scene and the everyday life of musicians and all that kinda stuff".
Slash also called the majority of band biopics "fabricated over-exaggerated bulls***".
"It's very rare that you see a movie that actually feels genuine. And so I don't even want to be a part of all that", the musician added. "I just don't think that it would be done a real justice. I've seen a lot of bad ones, and they freak me out".
Along with Barbie, Slash is also working on other films, including The Breach.
He also confirmed that he is working on a 'Blues Oriented' album, arriving next year.
Stating that it is "sort of similar to my first solo record", Slash also added that it would feature several collaborators, including singer Demi Lovato. Find out more here.