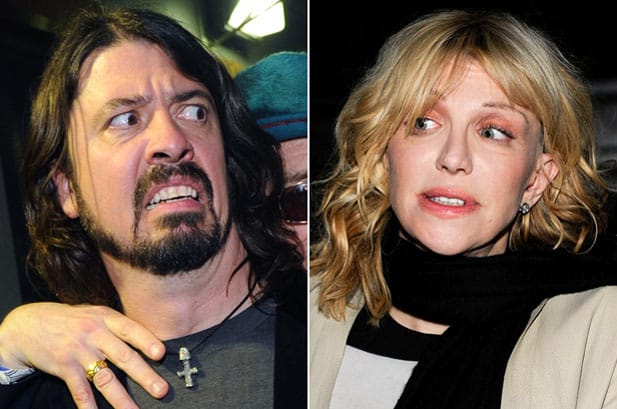 There has always been a rocky relationship with Kurt Cobain's widow, Courtney Love, and Foo Fighters frontman Dave Grohl.
However, the tensions now seems to be easing between the two musicians, as they have placed a wager on who can get the most strippers.
Earlier this month, the duo hung out at a strip-joint in New York, sources say the pair were "nose-to-nose at the table in the back, laughing, crying and hugging".
The NY Post reported that they made a €8,000 bet over who "can get the most strippers". Courtney seems very confident about the bet, due to the fact that she can relate to them because she used to be a stripper in Hollywood.
Love told the paper: "Strippers love me! I'm taking him down. I used to be [a stripper], and I tip like a maniac so they relate to me. That's the whole premise. That's why we made the bet."
In 2012, Courtney accused the former Nirvana drummer of trying to seduce her daughter Frances Bean Cobain. She tweeted: "He had that romney rape thing about him, gross old man macking on Kurt Cobain's only child."
Grohl responded through his publicist: "Unfortunately Courtney is on another hateful twitter rant. These new accusations are upsetting, offensive and absolutely untrue."
But that is all in the past, the pair made up in April at Nirvana's induction into the Rock And Roll Hall Of Fame, by hugging each other on stage.
Love said: "You know, I have a big speech, but I'm not going to say it. This is my family. I just wish Kurt could have been here. Tonight he would have really appreciated it. I just want to give this to our daughter Frances Bean, who couldn't be here because she was ill." After the ceremony, the Hole singer tweeted that she has made amends with Grohl.