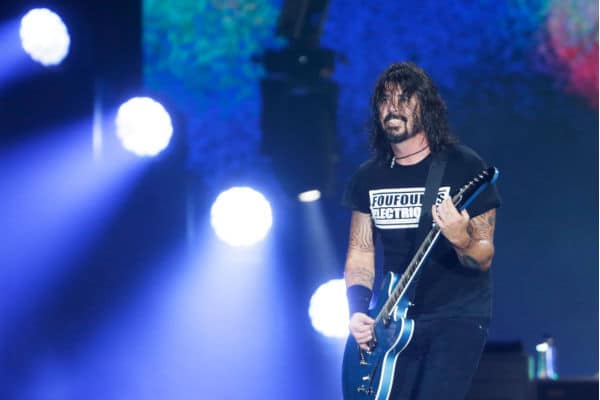 Dave Grohl dropped into a homeless shelter in LA, and cooked a barbecue for 450 people.
The Foo Fighters' heroic gesture comes following a series of snow storms that recently hit LA.
These storms saw several areas receive up to 30 inches of snow, in what were some of the strongest snow storms to ever hit southwest California, according to the National Weather Service.
"all in" 
Following this, a video has been posted by Valley CEO Rowan Vansleve, as part of their cause to focus on the homelessness between Las Vegas and Los Angeles.
"In the middle of the storms this week. This is Dave Grohl cooking over 500 servings of the best barbecue for those living in our shelters. That's class", Vasleve added in the post's comment section.
While Foo Fighter's track 'My Hero' was playing in the background, Dave Grohl said he is "all in". You can check the video out for yourselves here.
So, without telling anyone, Dave Grohl brought his giant smoker and cooked/fed barbecue and sides for 500 folks at Hope Mission in L.A. during the storms. Paid for it all. Worked 16 hours. So, when the aliens get here and ask "who's in charge?", I think we take them to Dave… https://t.co/CFIH4GOsfb pic.twitter.com/6BrUqjsgA6

— Liz Allman Seccuro (@LizSeccuro) February 28, 2023
Last month, Dave Grohl helped one fan to fulfill a very special family connection after he posed for a photo.
While dining at Roly's Bistro at Ballsbridge, Grohl posed for a photo with a Sligo woman named Carmel Breheny.
It turns out that her late brother Joe, worked as a lights designer for several high profile bands, including Foo Fighters.
Sadly, Joe died of cancer in 2009, missing the European leg of the band's European Tour.
"He was gutted to be missing it because he loved working with them. My brother toured with an awful lot of bands, and he always said that the Foo Fighters were one of the nicest to be on tour with", she said.
"Oh my God he was so nice, couldn't have been nicer. He was so charming and so patient for a man who literally being abducted by people like myself", she also said of Grohl. More on this here.