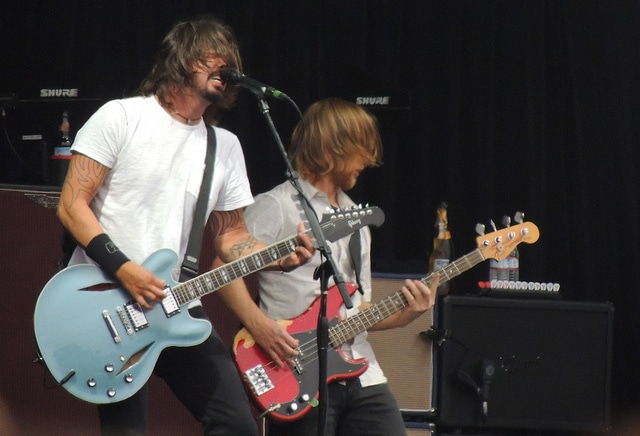 At a Foo Fighters gig in Toronto last Thursday, Grohl invited a fan onstage to play drums with them. The fan was named Anthony Bifolchi and it just happened to be his birthday the night of the gig.
Bifolchi brought a sign with him which read "It's my birthday, can I play drums?" Grohl managed to spot the sign as he was near the front row and decided to invite the fan up onstage for a special birthday performance.
The only condition that Dave Grohl had was that he could actually play, saying "You better not suck!" Grohl then asked the guy what song he wanted to play, with Bifolchi choosing 'Best Of You', to which Grohl responded "No way you're playing that, that's our last song!"
They eventually agreed on playing 'Big Me' with Bifolchi on drums and usual drummer Taylor Hawkins singing backing vocals. Dave Grohl later admitted "That was actually pretty good".
Foo Fighters were forced to scrap their show on Saturday night (July 11) in Quebec City due to bad weather. A storm hit shortly after Foo Fighters' opened, with strong winds and battering rain threatening to whip away the band's gear as it was unveiled.
You can check out the video of the fan performing with Foo Fighters down below.
Photo Credit: Daneil Hartwig