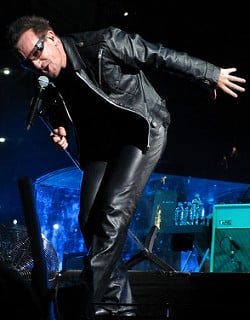 Thirty years ago today, Bono & Co. caused a bit of disruption while filming their music video for 'Where the Streets have no Name'.
Traffic was brought to a standstill in the area while the band performed from the rooftop of a store in downtown LA. During the shoot U2 played an eight-song set, which included four performances of "Where the Streets Have No Name".
The magnetic performance attracted thousands of spectators.
A lot of prep went into the shoot, before filming began, a week was spent reinforcing the roof of the liquor store to ensure it would not collapse if it were to be intruded by a group of fans. A backup generator was also put on the roof so the shooting could continue in the event that the authorities shut off the power on the primary generator, which happened during filming.
In the video LA police try to shut down the shoot due to safety concerns, this actually happened during filming, just as seen in the video. Life imitated art and the police eventually stopped the shoot.
The track was taken from their 1987 album The Joshua Tree and was released as the album's third single.
Front man Bono wrote the lyrics around the idea that it is possible to identify a person's religion and income based on the street on which they lived, particularly in Belfast.
"Where the Streets Have No Name" was praised by critics and became a commercial success, reaching the number one spot in the Irish singles chart, peaking at number thirteen in the US, and hitting the number four spot in the United Kingdom.
The song has remained a staple of their live act since the song debuted in 1987 on The Joshua Tree Tour. Bono has often said that regardless of how bad a concert is going, U2 can always break out "Where The Streets Have No Name" and completely rescue the night.
Picture Credit: Anirudh Koul