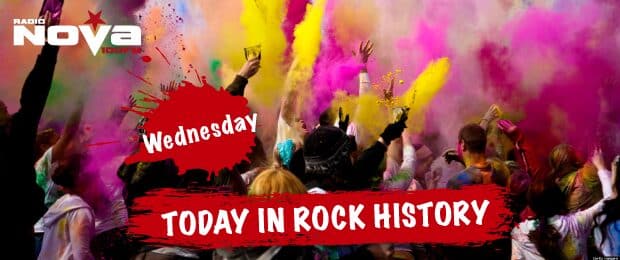 It's important to know your rock history, here at Radio NOVA we bring you ten rock stories from the sixties, seventies, eighties, nineties and the noughties.
On this day in rock history: December 3rd.
1964: The Rolling Stones had their second number 1 single with their cover of 'Little Red Rooster'.
1965: Keith Richards is electrocuted and knocked unconscious during a Rolling Stones concert in Sacramento, California.
1966: Having been convicted of heroin and marijuana possession, Ray Charles is given a five-year suspended sentence and fined $10,000.
1966: The Monkees made their live debut at the International Arena, Honolulu.
1969: John Lennon is asked to play the title role in the rock opera 'Jesus Christ, Superstar', the offer is withdrawn the next day.
1975: Ronnie Wood's wife Krisse was arrested for alleged possession of cannabis and cocaine after a raid on the couple's house in Richmond.
1976: An attempt was made on Bob Marley's life, seven gunmen burst into his Kingston home injuring Marley his wife Rita and manager Don Taylor, the attack was believed to be politically motivated.
1978: The Philadelphia Furies, a soccer team co-owned by Peter Frampton, Paul Simon and Mick Jagger, lost their first match in the North American League, 3-0 to the Washington Diplomats.
1980: Photographer Annie Leibovitz takes the last known photos of John Lennon and Yoko Ono together at their apartment in New York's Dakota building.
1999: U2's singer Bono had his missing laptop computer returned after losing it. A young man had bought it for €300 discovered he had the missing laptop, which contained tracks from All That You Can't Leave Behind.