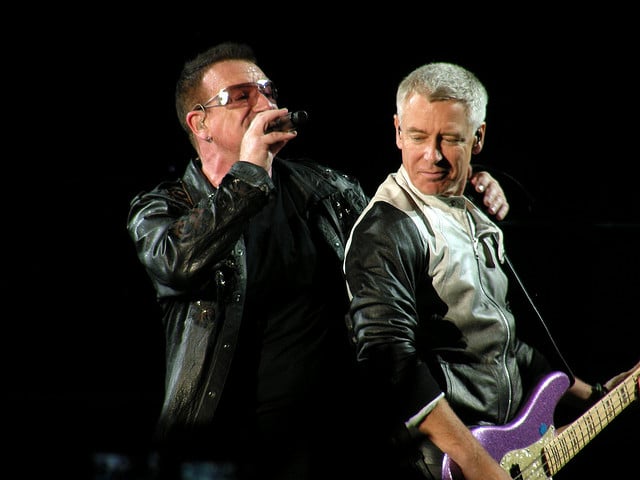 Just because you're fronting one of the biggest bands in the world doesn't mean you don't have to put up your fair share of stick…actually maybe it means you get more?
In a week where U2 bought back their Hanover Quay studio from the Dublin Docklands Development Authority, it's clear not everyone is excited about their music.
The launch of U2's latest record seems to have caused some unforgettable ire. Music history was made last month when Songs of Innocence was released to the world's half a billion iTunes account holders, for free, a month before its official release in shops. But not everyone was happy with the gift.
During a live Facebook Q&A session this week, the band had questions put to them by fans…or not, as the case may be. One woman asked "Can you please never release an album on iTunes that automatically downloads to peoples' playlists ever again? It's really rude."
Right then. If I was Bono, I would have suggested the arduous task of tapping the delete button for an album you don't want, but Bono's reply was much more dignified: "Oops. I'm sorry about that… Artists are prone to…[a] drop of megalomania, touch of generosity, dash of self-promotion, and deep fear that these songs that we poured our life into…mightn't be heard. There's a lot of noise out there. I guess we got a little noisy ourselves to get through it." Well said, Bono.
If you're a U2 fan you'll know the band has been doing "sensory overload" since the Zoo TV tour in the early nineties. This is a band used to breaking the mould, and if you thought otherwise: Everything You Know Is Wrong.
Dee Woods
@RaDeeOh