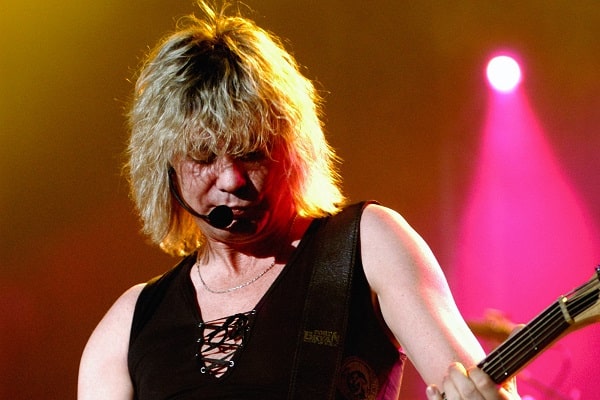 Def Leppard bassist Rick Savage has recenty stated that he has "the best job in the world". 
Savage made this claim during the sixth and final episode of behind-the-scenes series from the band's Stadium Tour. The tour itself began in Detroit on June 16.
This episode, shows behind the scenes footage of Def Leppard from their recent shows at Detroit and Hershey as part of their tour.
Along with guitar stories, and a new song from the setlist, you can check out Joe Elliot and Billy Joel's performance of 'Pour Some Sugar On Me'. See that performance here.
The stadium tour sees Def Leppard joined by Motley Crue, Joan Jett & The Blackhearts and Poison. It will conclude on September 9 in Las Vegas, Nevada.
It was initally planned for 2020, before facing several delays due to the pandemic.
"best job in the world"
The video also shows Rick Savage reflecting on the band's gig in Detroit, where he stated that he has the "best job in the world".
"Wow, Detroit. What a show. The crowd was fantastic. There was just a great energy about the set. Just within the stadium, from the get-go, right from the start, it was, like, bang!", Savage can be heard saying in this clip.
He also added, "And we were with the crowd. The crowd with us all the way. And it just kept going like that — it just kept going up and up and up and up". 
"It was just a great night — absolute great night. It's one of those nights where it reminds you what a great job I've got — it reminds me what a great job I've got", Savage continued.
"Playing in a band like this is just fantastic. And every so often you have a night like tonight that just jogs your memory and [you] go, 'I've got the best job in the world.' And it was because it was fantastic".