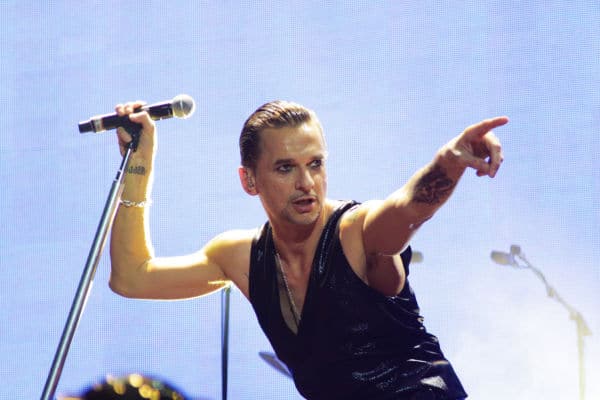 Depeche Mode have released their brand new single 'Ghosts Again'.
The track which you can see below, will feature on the band's upcoming album 'Memento Mori', which is to arrive on March 24.
This marks Depeche Mode's first new material since the death of their keyboardist Andy Fletcher last Summer.
"perfect balance of melancholy and joy"
According to a press release shared by Depeche Mode's Dave Gahan, the new track "captures this perfect balance of melancholy and joy".
While Martin Gore added that, "it's not often that we record a song that I just don't get sick of listening to – I'm excited to be able to share it". 
Speaking about the choice of title for this upcoming album, Depeche Mode revealed that 'Memento Mori' is the Latin translation for "remember that you must die". 
They did insist that the title was chosen before Fletcher's death.
"After Fletch's passing, we decided to continue as we're sure this is what he would have wanted, and that has really given the project an extra level of meaning," Gahan stated. "Fletch would have loved this album".
Pre-order the Amazon exclusive crystal clear colored vinyl of Depeche Mode's new album Memento Mori here. https://t.co/ucjL0nJSrR pic.twitter.com/kW7EXOuuQN

— Depeche Mode (@depechemode) February 10, 2023
Check Out The Depeche Mode Album Tracklist Below.
1. "My Cosmos Is Mine"
2. "Wagging Tongue"
3. "Ghosts Again"
4. "Don't Say You Love Me"
5. "My Favourite Stranger"
6. "Soul With Me"
7. "Caroline's Monkey"
8. "Before We Drown"
9. "People Are Good"
10. "Always You"
11. "Never Let Me Go"
12. "Speak to Me"
This new album comes just months after Depeche Mode had also confirmed plans to embark on their first tour in five years. 
This tour will also see the band take in a show at Dublin's Malahide Castle on June 14.