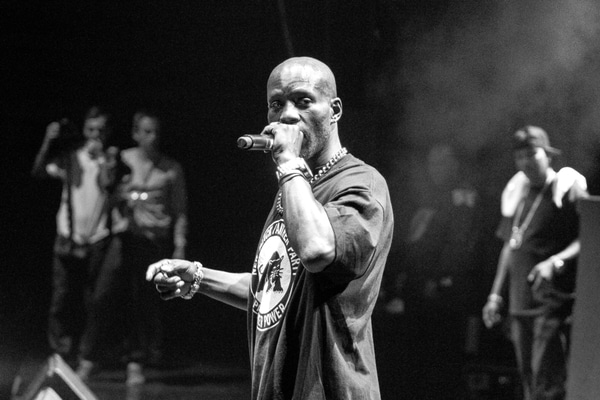 Six years have gone past since DMX released his last album, Redemption Of The Beast in 2015. However, the rapper is back with some new material and has brought in a few big-name friends to work with.
Speaking on N.O.R.E.'s Drink Champs podcast, DMX began to preview his new album, which has some notable guests, including Lil Wayne, Snoop Dogg, Alicia Keys, and Usher. Perhaps most surprising was when he proclaimed "I got Bono — the U2 n***a."
In the interview, DMX discusses his much-anticipated comeback album which will feature an array of guests, including the U2 frontman.
"It's crazy," DMX said about the track. "It got like a Miami feel to it. I feel like I want to shoot the video here."
DMX revealed he was introduced to Bono by Swizz Beatz, a long-time friend and collaborator of the rapper and executive producer of X's upcoming album. Swizz previously explained that he met the U2 frontman through Interscope Records boss, Jimmy Lovine.
"Bono, he's a music lover. I'm a music lover. We knew each other for a while," Swizz told MTV (via Vulture) in 2010.
DMX will collaborate with a number of artists
DMX's upcoming album, which has yet to be named, is said to be the rapper's proper follow-up to 2012's Undisputed. The album is set to include features from Lil Wayne, Snoop Dogg, Alicia Keys, Usher, several members of the Griselda Crew, and the late Pop Smoke.
This collaboration with DMX is not Bono's first foray into the world of hip hop. The U2 singer, and their guitarist The Edge, teamed up with Jay-Z and Rihanna on the Swizz Beatz-produced Stranded (Haiti Mon Amour).
DMX made history as the first artist to have his first five albums debut at No.1 on the Billboard 200 – with It's Dark and Hell Is Hot (1998), Flesh of My Flesh, Blood of My Blood (1998), …And Then There Was X (1999), The Great Depression (2001) and Grand Champ (2003).
Collaborations with rappers such as DMX are not the only plans for the U2 frontman. Bono joins Halsey and Pharrell Williams in the cast for the upcoming movie Sing 2.