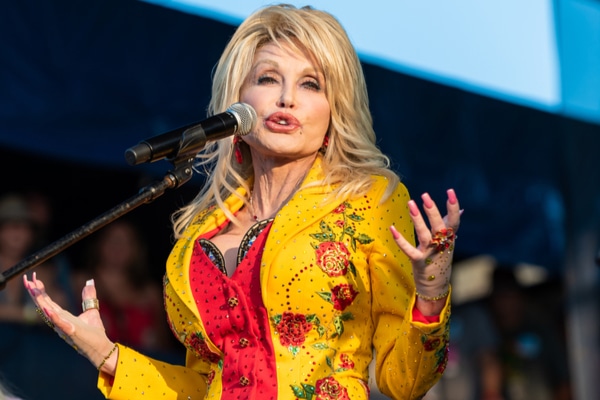 Dolly Parton has asked to be taken out of the running for the Rock & Roll Hall of Fame. She claimed that she does not feel she has "earned the right".
Last month, Parton had said that she would produce a "great rock album" if she were to be inducted. 
The country singer had been nominated for the Hall of Fame alongside the likes of Duran Duran, Rage Against The Machine, Dionne Warwick, Kate Bush, Beck and others.
Five acts are subsequently chosen to progress into the final stage for induction consideration. They are chosen by more than 1,000 artists, historians and industry workers. Fans can also contribute by voting here.
"I'm not expecting that I'll get in. But if I do, I'll immediately, next year, have to put out a great rock 'n' roll album – which I've wanted to do for years, like a Linda Ronstadt or Heart kind of thing", she had said in an interview in February.
"So this may have been just a God-wink for me to go ahead and do that. It's just nice to be nominated". 
Parton Wants To "respectfully bow out"
However, the 9 To 5,  Parton singer has since released a statement, confirming that she wants to bow out of the Hall of Fame running.
"Even though I am extremely flattered to be nominated for the Rock & Roll Hall of Fame, I don't feel that I have earned that right", Parton said. "I really do not want the votes split because of me, so I must respectfully bow out". 
"I do hope that the Rock & Roll Hall of Fame will understand and be willing to consider me again – if I'm ever worthy. This has, however, inspired me to put out a hopefully great rock 'n' roll album at some point in the future, which I have always wanted to do!"
Parton also added, "My husband is a total rock 'n' roll freak, and has always encouraged me to do one. I wish all of the nominees good luck and thank you again for the compliment. Rock on!".
The Hall of Fame class of 2022 will be revealed in May. While a date and location for the ceremony have yet to be confirmed, it is to take place sometime in the Autumn.