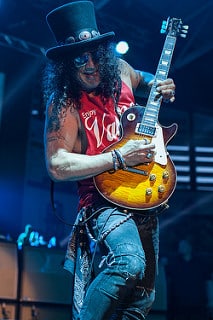 The figures have been totted up for the Guns N' Roses' shows in Australia and New Zealand earlier this year. The band are currently on their Not In This Lifetime tour and have grossed over €34 million in sold ticket revenue.
The latest figures were published by Billboard's Boxscore and show the massive financial success Axel and co. are enjoying. The original members have reunited, with Axl Rose, Duff McKagan and Slash reforming. Their eight Aussie and New Zealand shows in February have been a huge financial success.
The tour's overall gross has now reached over €211 million since it kicked off in April last year – with Billboard reporting that the figure doesn't include the revenue from seven Asian markets from the first quarter of the year.
The band are top of the charts in the most recent Boxscore top 10 highest earning list, which also features Def Leppard, Red Hot Chili Peppers, Twenty One Pilots, Santana and Green Day. You can check the list out in full here.
Meanwhile, Guns N' Roses fans don't have too much longer to wait to see their idols. The 'Paradise City' rockers are set to headline Slane 2017 next month. The band will return to the Co. Meath venue for the first time in 25 years. The hotly anticipated gig, which sold out in 24 hours, will take place on Saturday May 27, 2017. Following their European dates, they'll then return to North America for a run of summer shows.
Picture Credit: glowingforest