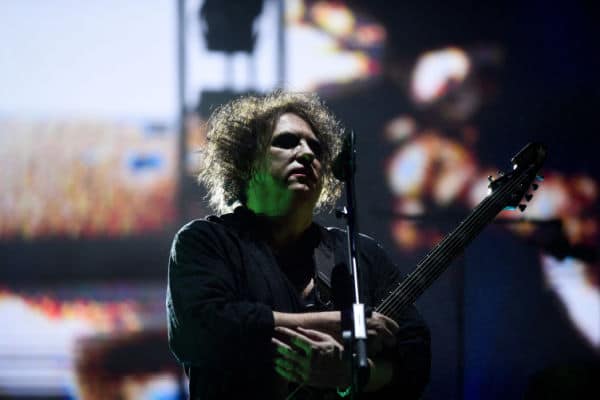 Robert Smith has called dynamic ticket pricing policies a "bit of a scam".
The Cure's frontman made these comments when explaining the band's plan to cut ticket scalpers out of reselling tickets for their upcoming US Tour.
These comments come as Ticketmaster's approach to ticket selling at a higher than normal price came under the spotlight.
The policy came under scruitiny when Bruce Springsteen fans objected to his use of the policy for his tour, with many fans opposing the idea of paying more than entitled.
However, Ticketmaster insisted that it was better to give the extra profits to artists, especially considering scalpers would resell these tickets with similar price boosts.
Ticketmaster and Live Nation boss Michael Rapino however said that corporations needed to show more clarity, when explaining ticket prices are increasing.
"We've got to now go out and do a much better job so policymakers and consumers understand how the business operates. We've historically not had a big incentive to shout out loud that venues are charging high service fees or artist costs are expensive", he said. "But I think now [that] education is paramount". 
"help us fight the scalpers"
In a series of tweets which you can see below, Robert Smith revealed that the Cure used a "verified fan" approach, where each ticket was associated with a registered buyer.
This makes it much more difficult for resellers to to buy them in the first place.
"We were convinced that Ticketmaster's … ideas could help us fight the scalpers," he wrote. "We didn't agree to the 'dynamic pricing'/'price surging'/'platinum ticket' thing, because it is itself a bit of a scam? A separate conversation!".
Robert Smith also added that this system was used with over 400 sales programs.
This system reportedly reduces scalping by 5% of total tickets which surface in this secondary market. Smith also claimed that this market has operated with tens of millions of marketing budgets.
"We know it is a far from perfect system", he admitted. "But the reality is that if there aren't enough tickets on sale, a number of fans are going to miss out whatever system we use. At least this one tries to get tickets into the hands of fans at a fair price". 
WE WERE CONVINCED THAT TICKETMASTER'S "Verified Fan Page" AND "Face Value Ticket Exchange" IDEAS COULD HELP US FIGHT THE SCALPERS

— ROBERT SMITH (@RobertSmith) March 15, 2023
(WE DIDN'T AGREE TO THE 'DYNAMIC PRICING' / 'PRICE SURGING' / 'PLATINUM TICKET' THING… BECAUSE IT IS ITSELF A BIT OF A SCAM? A SEPARATE CONVERSATION!)

— ROBERT SMITH (@RobertSmith) March 15, 2023
WE WERE TOLD "Ticketmaster's Verified Fan platform has been used more than 400 times to qualify buyers and reduce the % of tickets on the secondary market.

— ROBERT SMITH (@RobertSmith) March 15, 2023
See more on this from Smith here.
Last week, Noel Gallagher shared a newly remixed version of his track 'Pretty Boy', featuring Smith. Check it out here.