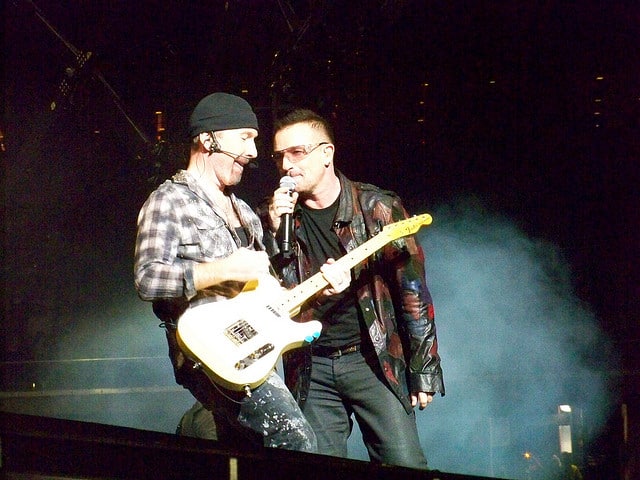 U2's guitarist The Edge spoke about the injuries Bono suffered after his bicycle accident in New York's Central Park and how it will alter the band's upcoming tour plans.
Sources close to Bono have claimed that it'll take the frontman at least three months to recover from his bike catastrophe.
Speaking KROQ (via Rolling Stone), The Edge said: "He's doing OK. He actually showed us an X-Ray a couple of days later, and it looked like a miniature of the Eiffel Tower was in his elbow."
"The most vulnerable was actually his upper back, the scapula, because they couldn't put any plates in there or they decided not to do surgery."
The frontman underwent five hours of surgery following his bicycle calamity. Rolling Stone reports that Bono suffered several serious injuries from the incident, including a "facial fracture involving the orbit of his eye".
"[Bono] was taken emergently to the operating room…where the elbow was washed out and debrided, a nerve trapped in the break was moved and the bone was repaired with three metal plates and 18 screws," revealed orthopedic trauma surgeon Dean Lorich MD.
The Edge continued: "We're kind of lucky he was wearing a helmet so he didn't actually break Central Park, but he's made of tough stuff, and he's bouncing back."
The guitarist was then asked why there was no photographic evidence of the incident? "You know, when Bono goes cycling he likes to dress up as a Hasidic Jew."
Yesterday, the Irish rockers confirmed tour dates for their upcoming 'Innocence and Experience' tour scheduled for next year.