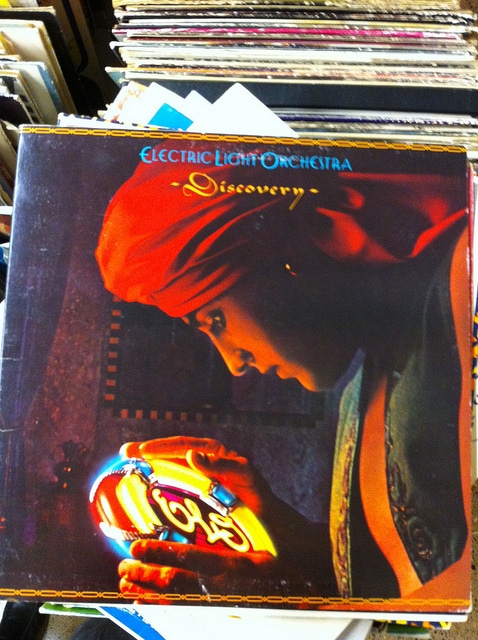 Discovery is the eighth studio album released by British rock band Electric Light Orchestra more commonly known as ELO. The album was released on 31st May 1979 in the UK with a US release one week later.
ELO began as a ragtag bunch of musicians in Birmingham in 1970. Set up by guitarist Roy Wood and singer Jeff Lynne, they decided to "pick up where the Beatles left off" and incorporate more classical instruments into rock music. They would go on to be one of the leading lights for a style of music known as symphonic rock. The band hit big in 1977 with their Out Of The Blue album featuring the iconic 'Mr Blue Sky'.
The album saw the band go in a different direction from their Beatlesque, symphonic style. Bandleader Lynne got rid of the band's resident string players (Mik Kaminski, Hugh McDowell and Melvyn Gale) to help accommodate this change. The album was heavily influenced by disco themes and sounds which lead ELO keyboard player Richard Tandy to nickname the album "Disco-very".
The change in style didn't do the band any harm however as fans embraced the new sound. Songs like 'Last Train To London', 'Don't Bring Me Down' and 'The Diary Of Horace Wimp' all became hits and instantly recognizable in the band's extensive back catalogue.
The album was a success becoming number 1 in the UK and selling over 2 million copies in the United States.
Track Listing
Side One
1 – Shine A Little Light
2 – Confusion
3 – Need Her Love
4 – The Diary Of Horace Wimp
Side Two
1 – Last Train To London
2 – Midnight Blue
3 – On The Run
4 – Wishing
5 – Don't Bring Me Down
Photo Credit: Evan Moss