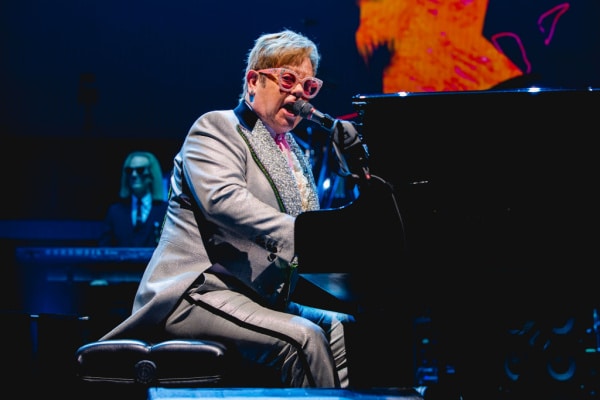 Elton John has announced that he has reshuffled two of his headline shows at Liverpool, as part of his 'Farewell Yellow Brick Road' tour, to avoid preparations for the 2023 Eurovision Song Contest.
Having been initially set to perform at Liverpool's M&2 Bank Arena on April 22 and 23 next year, Elton John has now moved those shows forward to March 23 and 24.
Original tickets for these shows remain valid.
"exciting news"
Confirming the news regarding the venue changes, Liverpool's M&S Bank released this statement.
"Following the exciting news that Liverpool will host the 2023 Eurovision Song Concert, Elton John's 'Farewell Yellow Brick Road' tour show, due to take place on Saturday 22 April 2023 & Sunday 23 April 2023, has been rescheduled", they said.
The statement also added, "Given the electric reception that Elton received when he played to a sold-out Anfield Stadium earlier this year, he couldn't wish for a better place to start the final leg of his 'Farewell Yellow Brick Road' tour".
"Elton, his management team and everyone involved with the 'Farewell Yellow Brick Road' tour wishes Liverpool the best of luck in delivering the Eurovision Song Contest and are glad that they were able to assist in their own small way by working with us to move their dates to accommodate the show. We are grateful for their hard work and enthusiasm in working with us to help make this special moment happen for our city".
These shows will now begin Elton John's farwell tour, which is to also become the subject of a new documentary.
Goodbye Yellow Brick Road: The Final Elton John Performances and the Years That Made His Legend will be co directed by RJ Cutler and Elton John's husband David Furnish. More on this here.
As part of this tour, Elton John will also take to the stage at LA's Dodger Stadium on November 20, his last scheduled appearance stateside.
It was also confirmed that this show would also be streamed via Disney+. More on this news here.