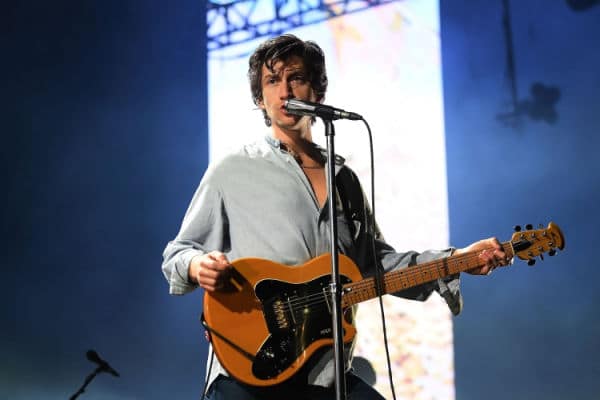 Would you like to listen to the article instead of reading it?
Glastonbury co-organiser Emily Eavis is confident that Arctic Monkeys will be able to perform at this year's festival.
Eavis' comments come after the band recently cancelled their scheduled show at Dublin's Marlay Park, after frontman Alex Turner came down with "acute laryngitis".
The band confirmed this unfortunate news in a statement shared via their social media accounts.
"We are extremely sorry to announce the cancellation of Arctic Monkeys' show at Marlay Park in Dublin tomorrow", the band said. Alex is suffering from acute laryngitis, and following medical advice, has been ordered to rest".
"Alex and the band apologise for the huge disappointment this will inevitably cause all their Irish fan", they also wrote. "Full refunds will be credited back to the ticket purchaser's account by Ticketmaster within the next six working days".
"I'm sure we are going to be all right"
Despite this, Emily Eavis who co-organises the 3 day event alongside her father Michael, told reporters on the opening day of the festival, that she remains confident that the band will return for their headline slot.
"I think we are going to be all right. They've cancelled that, he's recovering. I'm sure we're going to be all right", Eavis said.
However, should the band be unable to do so, Eavis also stated that they have some "back up plans" arranged just in case.
"We've got a couple of back-up plans if not. We've always got back-up plans for everything", she revealed.
This would also mark the first time that Arctic Monkeys have headlined Glastonbury since 2013.
"You got to allow the surprise to happen" – Eavis
Elsewhere, Emily Eavis was also asked if Foo Fighters were one such "back up plan".
"I wouldn't like to give anything away. You've got to allow the surprise to happen. It's all about the surprise", she remarked.
Foo Fighters were previously rumoured to be headlining Glastonbury under the the moniker of 'The Churnups'.
The band seemed to confirmed this when they promised to "churn up" emotions, via social media. More on this from Nova here.
Foo Fighters have also announced plans to tour the UK next year.