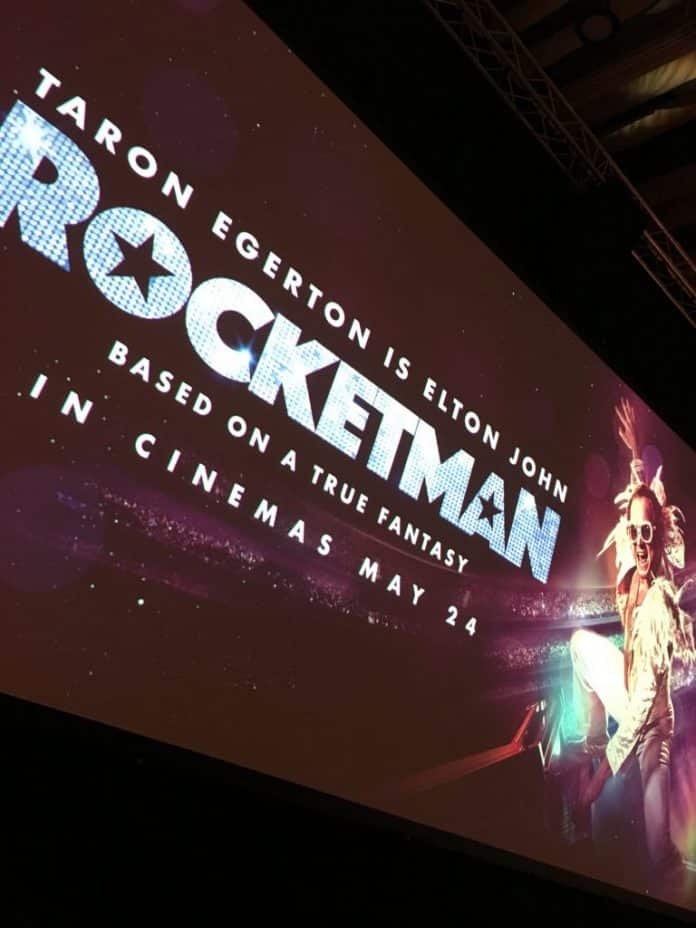 Radio Nova was among a select few invited into London's Abbey Road Studios to see 20 minutes of Rocketman the forthcoming film about the life and times of the rock superstar Elton John.
Many of the recordings from the film were made in the legendary studios and the film's musical director is Giles Martin, son of the late Beatles producer George.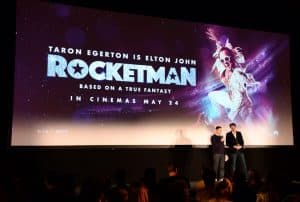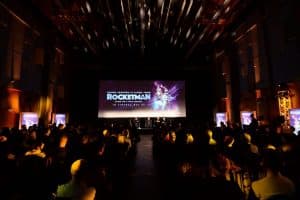 David Furnish, John's husband and a producer of the film introduced the footage which featured brilliant pieces from the star's childhood as a musical prodigy to his rise to international fame as well as insights into his battle with drug, sex and shopping addictions.
The film also includes fantasy scenes, including John at his first U.S gig in the infamous Troubadour, floating in the air as he sings. Something that does seem out of place in an otherwise fantastic looking film.
Crocodile Rock, Your Song and Saturday Night's Alright For Fighting are among the hits featured in the film which includes mammoth production numbers like a scene in a funfair with 57 dancers.
British actor Taron Egerton, who stars as the singer, director Dexter Fletcher and Martin took part in an on-stage Q&A following the screening.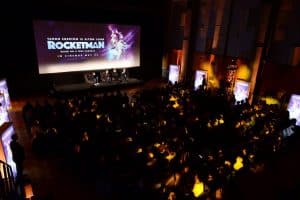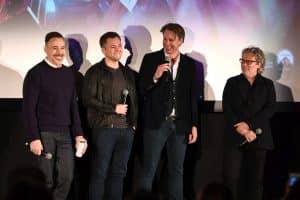 Egerton praised the rock legend for wanting a warts-and-all portrayal saying, "The movie begins with Elton marching into rehab in a real bad way – sweaty, grinding his teeth,… and that's our jumping off point for the film, and we learn about his life through him recounting his experiences from this therapy room."
The 29-year-old Welsh actor and Kingsman star added, "For him to come at this from a standpoint of 'I'm going to show everyone myself at my most vulnerable and my most broken and damaged,'" he continued, "I think that quality of bravery and lack of concern with how one comes across is quite unusual actually, and it is right at the heart of what makes Rocketman quite special, because Elton gave me the license to go and make him look quite ugly at times and that was always very important to me."
"It's a very exciting and daunting time but we are incredibly proud. We feel we have something special and magical, something that's going to elevate all of Elton's catalogue and the man himself and his story, his legend and his history, and we're all incredibly proud to be part of that," said Fletcher, who replaced Bryan Singer as producer of the smash hit Queen biopic Bohemian Rhapsody.
Fletcher added, "Just over a year ago, Taron sat at the piano in this studio and sang two songs and that was really the catalyst for making this whole project. When Elton saw that and Giles saw that, we knew there was something extraordinary was about to happen. What happened that day made us all be here today."
The film marks the second collaboration for Egerton and Fletcher, who previously made a biopic of Olympic athlete Eddie "The Eagle" Edwards.
Rocketman, which also stars Billy Elliot actor Jamie Bell as songwriter Bernie Taupin and Bodyguard and Game of Thrones actor Richard Madden as Elton's one time manager and boyfriend John Reid, is due out in May 24th and has been described as a musical fantasy about the singer's long and colourful life.
"The most significant gay relationship explored in the film is Elton's relationship with John Reid, but if there is a love story in this film, it is the love story between Elton and Bernie Taupin, and the incredible music they have produced over the past 50 years. Although Elton puts his relationship with Bernie front and center constantly, he is the unsung hero of all of those songs that we all know and love. So this movie, quite rightly, is about a friendship and a writing partnership as much as it is about this icon we all know and love," Egerton said.
Tom Hardy originally took up the lead role for the long awaited movie in 2013 but he eventually pulled out after he struggled with the singing in the film. "I'm not a singer. I have no idea really. I'm really trying because of Rocketman but it's hard to open my mouth in that way," he said at the time.
John himself, who turns 72 today (March 25th), remains busier than ever! He's currently in the midst of his 300-date three-year "Farewell Yellow Brick Road Tour" and will retire from touring upon its conclusion in 2021.
He says he's winding down his performing career because his family needs to come first in his life. John and Furnish have been together since 1993, entered into a civil partnership in 2005, and married in 2014. They are the parents of two sons, eight-year-old Zachary and five-and-a-half-year-old Elijah.
The music legend is scheduled to play sold-out shows at Dublin's 3Arena on June 12 and 13 2019 and will now return to play Belfast's SSE Arena on November 30, 2020 and the 3Arena again on December 4, 2020.
John's still-untitled autobiography, co-written by with music journalist Alexis Petridis, will be published on October 15th.