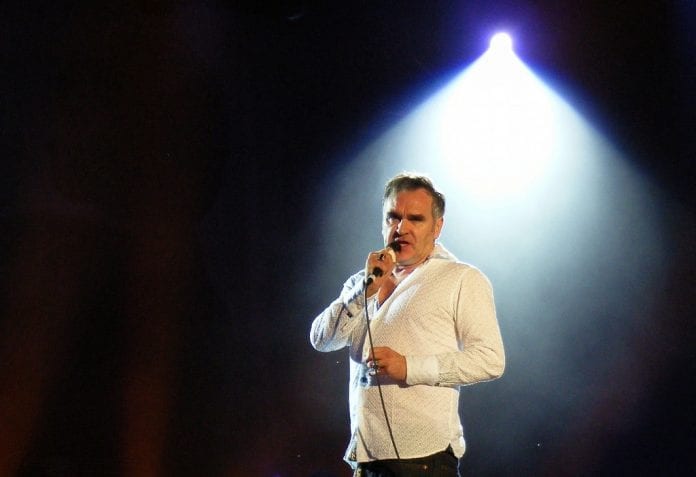 So it's time – Morrissey is taking to the stage at the 3Arena tonight and we're very, very excited.
However, in typical Morrissey fashion he couldn't let the opportunity of landing in Ireland go by without writing to the Minister of Agriculture urging an outright ban on fur farming.
The former Smiths singer is a staunch animal rights activist and wrote the letter to Minister Creed on behalf of welfare group PETA (People for the Ethical Treatment of Animals).
Nonetheless, the singer faced some back lash following his recent gig in Scotland but we're just hoping the set list is quite similar if we're honest!
Official music video for "Jacky's Only Happy When She's Up on the Stage" out now. Watch here https://t.co/wxpppGSWnV pic.twitter.com/viggrwhnR9

— Morrissey (@officialmoz) November 30, 2017
We'd be very disappointed if we didn't get the chance to hear some of our favourites live at Low In High School (albeit they're mostly Smiths tunes!).
Doors open at 6.30pm, there's no support act for the night but there will be a pre-show video at 8.30pm which has become a part of the Morrissey live experience, while the man himself is due to hit the stage circa 9pm.
It's rumoured he is set to play 20 songs, and here's what you can expect to hear tonight – check it out below.
You'll Be Gone
I Wish You Lonely
I Started Something I Couldn't Finish
Suedehead
Jacky's Only Happy When She's Up On The Stage
How Soon Is Now?
Munich Air Disaster 1958
When You Open Your Legs
Who Will Protect Us From The Police?
World Peace Is None Of Your Business
My Love I'd Do Anything For You
Home Is A Question Mark
I Bury The Living
Back On The Chain Gang
Spent The Day In Bed
The Bullfighter Dies
If You Don't Like Me, Don't Look At Me
Jack The Ripper
Hold On To Your Friends
Everyday Is Like Sunday
Speedway

Irish Blood, English Heart