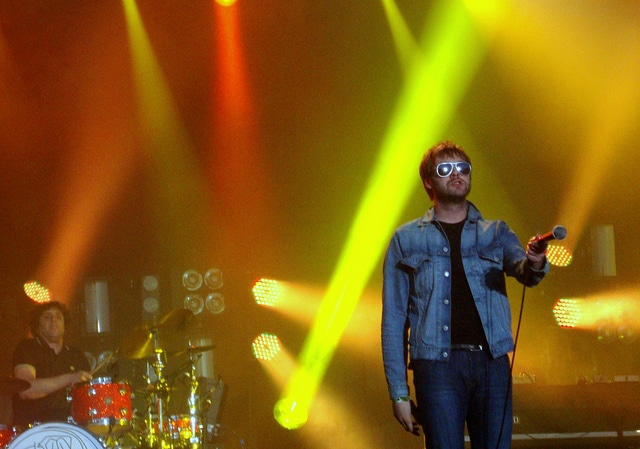 It has gotten to the stage that if you don't have a parody Twitter account, you're doing something wrong.
A fake Twitter account has been set up for the Leicester rockers Kasabian. The account is tweeting fake lyrics from the band, that are inspired from their song 'Eez-ehh'.
'Eez-ehh' was the debut single from their latest album 48:13. Singer Tom Meighan describes the song as a "working class anthem", taking on a political edge.
@KasabianUncut is posting comments inspired by 'Eez-ehh', slagging off The Royal Family, the British government, and pop culture fads.
It could easily be David Ike that is behind the parody account, with lyrics such as "Will And Kate Are Lizards", "Alan Sugars Illuminati" and "Horsemeat In Yer Burgers". Although, that last one might well be true.
Some of the real lyrics from Kasabian are: "There's cobras in the moshpit, finally we lost it, everyday is brutal, now we're being watched by Google."
The replacement @KasabianUncut lyrics include the lines: "SANTA'S SHOT DOWN BY MILITARY DRONES / WOULD THE KIDS KNOW ITS CHRISTMAS / IF IT WERENT ON THEIR IPHONE".
Check out some of the other tweets below:
GEORGE BUSH AND OSAMA SITTING IN A TREE / PLOTTING THE DESTRUCTION OF OUR DEMOCRACY / ALSO TONY BLAIR IS THERE TOO

— KASABIAN UNCUT (@KasabianUncut) December 15, 2014
SANTA'S A TERRORIST AND RULDOPH'S A NONCE / YER QUEEN LIZARD'S BEING PAINTED BY ROLF

— KASABIAN UNCUT (@KasabianUncut) December 15, 2014
WILL AND KATE ARE LIZARDS / HARRY POTTERS A WIZARD / FIFAS CORRUPT / YER SISTERS UP THE DUFF

— KASABIAN UNCUT (@KasabianUncut) November 16, 2014
POLITICIANS ARE ALL TOFFS / TESCOS RIPPING YOU OFF / EVERYONES GETTIN EBOLA / YER NEIGHBOURS DONT KNOW YER

— KASABIAN UNCUT (@KasabianUncut) November 16, 2014