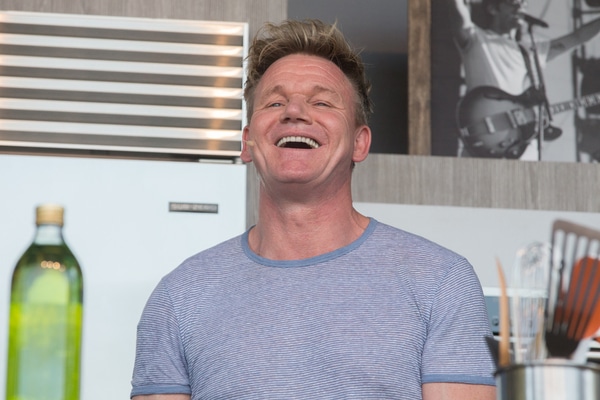 Known more for his mouth than his chef and restaurateur accolades, it is quite fitting that Gordon Ramsay has found himself subject of a heavy metal tune. The culinary master has brought so many classic moments to viewers of Hell's Kitchen, with one fan matching one of those ranting escapades perfectly to his guitar riffs.
Combining the hard-hitting decibels of his guitar to the jagged larynx of Gordon Ramsay, YouTube guitar virtuoso Andres Antunes created a killer, progressive metal jam. According to Guitar World, Antunes has over 540,000 subscribers on his channel and the 2-week-old video has over 155,000 views. Check out just some of the hard-hitting lyrics below.
"You're too dangerous to have on service," Ramsay squawks. "I asked you what you're doing, and you say you're starting tomatoes, are you f***? You dirty pig. Get out! Get out! Yeah right, aye, you come here you. Why, what's going through your mind now? You still gonna f****** butcher me and slice me and serve sh** to them? No chef! Where's your fight man. It's here chef. Where is it? I've got it chef! Then wake up, you donut! Yes chef!"
As well as the bellowing Gordon Ramsay, the clever metal lover has also combined his shredding to recordings of McDonald's complaints. You can hear people screaming about the restaurant's ice cream machine being out of service, or something different with people freaking out on a plane. Still unsatisfied with your metal supply? How about some nice screeching from the howler monkey, beautifully mixed with the sweet shreds of Antunes' guitar?
Some of the YouTuber's most popular videos include Antunes playing guitar alongside his washing machine, with another called Karen Metal, which has over five million views. Adding metal music to his already laden resumé, Gordon James Ramsay OBE is also British chef, restaurateur, television personality, and writer. His global restaurant group, G.R Restaurants, was founded in 1997 and has been awarded 16 Michelin stars overall; with it currently holding a total of seven.
Check Out Gordon Ramsay Going Heavy Metal