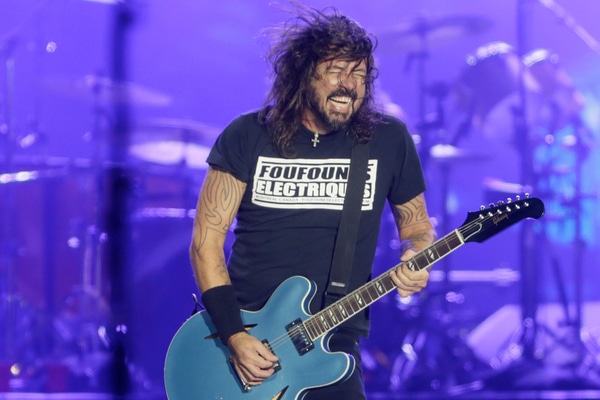 Foo Fighters' "horror comedy" film Studio 666 will be hitting Irish and UK cinemas next month.
The film which is directed by BJ McDonnell, will see David Grohl and co moving into a new mansion in Encino to record a new album. The mansion is also "steeped in grisly rock and roll history". 
McDonnell called the project "a perfect combination of all things I love". He also added, "Rock, horror, and comedy all tied together in a very thrilling motion picture". 
He continued,  "I am so excited to have teamed up with the Foo Fighters to create an old school 'Band' movie. It's been years since we've seen something like The Beatles Help!, The Monkees Head, or KISS Meets The Phantom Of The Park". 
"Take that 60's / 70's old school band film fun, mix it with horror and STUDIO 666 is born! I am so ecstatic for audiences of film and music to come together and enjoy our film". 
Studio 666 will also show Grohl as he "finds himself grappling with supernatural forces that threaten both the completion of the album and the lives of the band".
The trailer was released earlier this month. Check it out here.
Foo Fighters' Studio 666 is "a big, loud bloody horror movie"
It has now been confirmed that Studio 666 will be released in cinemas across Ireland and the UK on February via Sony Pictures UK.
Sony Pictures tweeted this.
I told you it was haunted. 🤘 #Studio666Movie starring the @FooFighters Exclusively At Cinemas February 25. pic.twitter.com/uTCP32twlC

— Sony Pictures UK 🎬 (@SonyPicturesUK) January 27, 2022
"Yep…we actually went and made a big, loud, bloody horror movie. Because…why the hell not?", Dave Grohl said of the film's project.
"After keeping STUDIO 666 our dirty little secret for years, we're so fucking excited to bring it to you guys for a full-on theatrical release. This thing was MEANT for the big screen. We hope you have as much fun watching it as we did making it". 
The film will of course star the Foos bandmembers Dave Grohl, Pat Smear, Taylor Hawkins, Nate Mendel, Rami Jaffee and Chris Shifflet. It will also star Jenna Ortega, Will Forte, Leslie Grossman, Whitney Cummings, and Jeff Garlin.
John Ramsay and James A Rota will produce the film, alongside co-producers Sean Gowrie and Jona Ward.