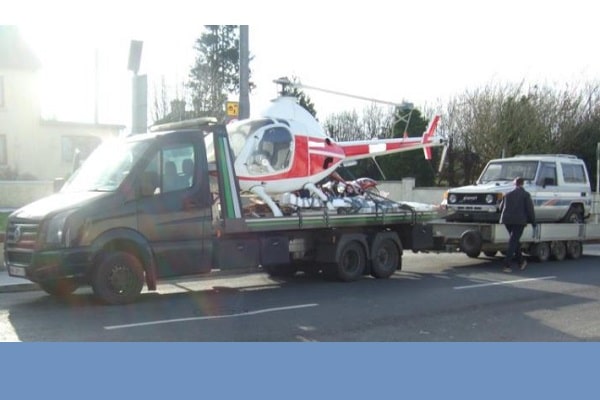 Gardaí stopped a motorist this morning in their attempt to transport a helicopter through a village in Co Limerick. People have taken to social media to share photographs of the red and white two-seater, sitting atop a recovery truck, outside Henry Street Garda Station.
The helicopter had been ferried on the back of a transporter truck as it travelled through Caherconlish, last Tuesday. Gardaí signalled the driver to pull over on High Street, situated about 15km from Limerick City. Subsequently, they seized the helicopter, and the transporter truck, as well as a motorcycle, a 4×4 vehicle, and a trailer.
Following the unusual detection, a Garda spokesperson said they obtained a man – aged in his 40s – to Mayorstone Garda Station. Gardaí escorted the driver to a Garda station in Limerick City for the purposes of a search, although was later released. They added that the man, helicopter, and the aforementioned vehicles, had later been released.
When asked about the seizure of the helicopter, a Garda spokesman revealed, "Gardai stopped a male in his 40s, who was driving a transporter truck in Caherconlish, Co. Limerick on the January 25, 2022. The man was brought to Mayorstone Garda Station to be searched under Section 23 of the Misuse of Drugs Act 1977 and the vehicle was seized. The man and the vehicles were released following a search." The spokesman said that no other information was available.
The owner of the helicopter has since contacted reporters of the Limerick Leader, stating the reason behind the Garda check. He informed reporters that, "it was regarding insurance documentation on the Belgium-registered transport truck. I produced this documentation to gardai, and the vehicles and helicopter were immediately released."