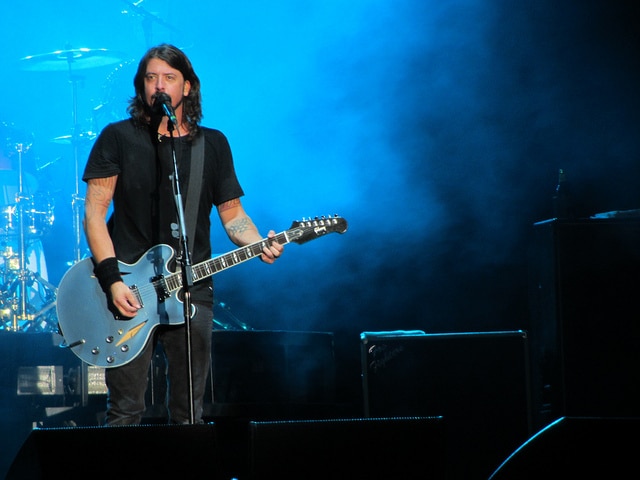 Last night the Foo Fighters played their second of four intimate shows in the UK.
Rumours of the 'secret' shows started circulating earlier in the week. The announcement  of the gigs triggered a massive ticket scramble, and not surprisingly they were gone in minutes.
The Foos, billed as The Holy Shits, have so far performed at Brighton's Concorde and London's House Of Vans. The American rockers played to a crowd of approximately 500 fans at each show.
Grohl said, "The major difference between playing the club shows and big festivals is that with the big shows, you're playing so far away from people and the crowd just becomes a giant glob, it's a big mass. I personally find that the smaller club shows are so much more nerve-wracking because the people in the crowd are right there. When you blow it, they know it! There's no hiding. It's an energy in itself."
The Foo Fighters frontman also hinted that the band are planning a week-long residency at London's Wembley Stadium.
"I seem to remember years ago we played this club and it was also hot as balls. When we were asked to come over and play the Invictus Games on Sunday I thought, 'We haven't played in the UK in years, and I thought we'd try to play gigs like this pretty much every night we're here until we have to go home. And it gives us a chance to see your faces before we play that week at Wembley Stadium."
The band seemed a tad nervous performing in front of their UK cover band saying "we don't wanna s**t the bed in front of the UK Foo Fighters."
Watch the Foo Fighters, sorry, The Holy Shits play 'New Way Home' below.
Foo Fighters played:
'Enough Space'
'I'll Stick Around'
'See You'
'New Way Home'
'Up In Arms'
'Big Me'
'Generator'
'Rope'
'The Pretender'
'Learn To Fly'
'White Limo'
'Arlandria'
'Cold Day In The Sun'
'Dear Rosemary'
'Breakdown' (Tom Petty And The Heartbreakers cover)
'My Hero'
'Hey, Johnny Park!'
'Everlong'
'All My Life'