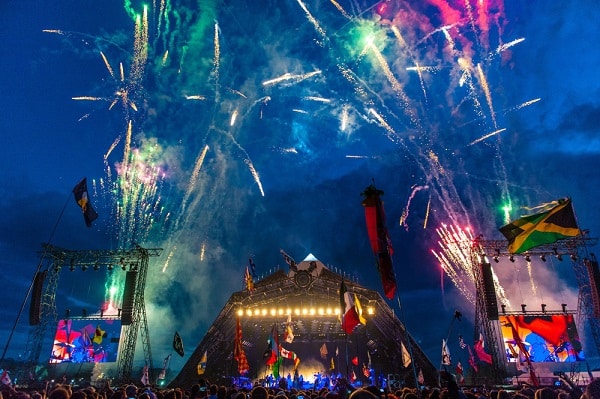 With Glastonbury cancelled for another year, rumours have already begun to circulate over the possible acts that could grace Worthy Farm. Bookmakers are placing odds on a host of possible artists who could celebrate the 50th anniversary of the festival.
After yesterday's disappointing yet, somewhat expected official cancellation of Glastonbury 2021, talk began over the prospect of next year's festival. Hope for the festival's return next year was sparked within yesterday's official statement from organisers Michael and Emily Eavis. Festivalgoers were assured that their £50 deposit will rollover to "guarantee the chance to buy a ticket for Glastonbury 2022".
Organisers have to settle for another "enforced fallow year" for the festival as they scrapped plans for the festival for a second year running. The ongoing coronavirus pandemic has curtailed many industries and other aspects of life, including mass gatherings at music festivals like Glastonbury, which can accommodate over 200,000 festivalgoers.
However, with fresh hope of another renewed date for their 50th anniversary, rumours have begun to circulate. Which bands and artists will be at next year's festival and who could headline at its famous Pyramid Stage? Bookmakers Ladbrokes are already taking bets on these ponderings and have placed Coldplay at 3/1 to be the headline act.
Other big 2022 line-up rumours have Elton John and Paul McCartney tipped for the legend slot and Ladbrokes are placing them at 4/1 and 5/4, respectively. Meanwhile, hope of an Oasis reunion is also shown with Noel and Liam Gallagher coming in at 10/1 to perform at Glastonbury for its jubilee.
There is naturally a lot of excitement surrounding the list of possible acts, with Jessica O'Reilly of Ladbrokes telling The Sun: "With Glastonbury delayed again for another year, it goes without saying the Eavis family will be pulling out all the stops in 2022."
She added: "It looks like Taylor Swift and Paul McCartney could be asked to fulfil their 2020 headline spots, but the betting is wide open for the third night and we can't rule out Coldplay performing for a record 5th time, or even organisers flexing their muscles for Lady Gaga or J Lo to head to Worthy Farm."