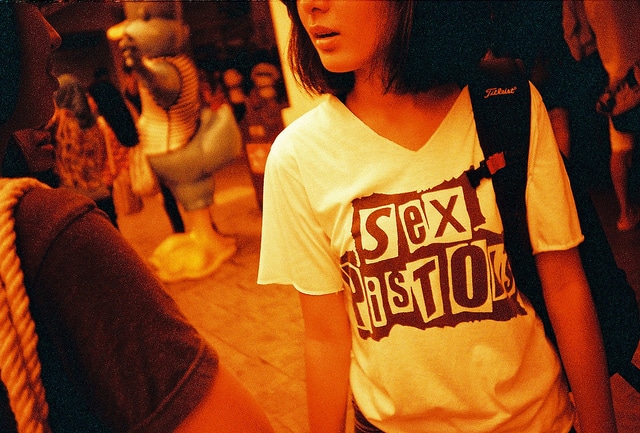 Tis the season for awards show news, Sex Pistols, Bob Dylan and Lou Reed are all going to be inducted in to the Grammy Hall Of Fame 2015.
Twenty-seven musical recordings have joined the Grammy Hall Of Fame, extending the number of recordings to nearly 1000.
The Grammy Hall of Fame Award was established in 1973 to honor recordings that are at least twenty-five years old and that have "qualitative or historical significance."
Other artists to be featured are Neil Young, Abba, Kraftwerk, Alice Cooper, Leonard Cohen, Otis Redding and Willie Nelson.
The 2015 inductees join an exclusive list of artists that include, the Beatles, Santana, Marvin Gaye, Van Morrsion, Pink Floyd and The Rolling Stones.
Bob Dylan's 1975 album Blood On The Tracks, made the 2015 inductee list. Dylan already has the LPs Blowing In The Wind (1963) and Blonde On Blonde (1966) added to the Grammy Hall Of Fame.
Sex Pistols' Never Mind The Bollocks, Here's The Sex Pistols (1977), Neil Young's Harvest (1972), Alice Coopers' single 'School's Out' (1972), Leonard Cohen's Songs of Leonard Cohen (1967) and Lou Reed's single 'Walk On The Wild Side' (1972), are also all included.
Neil Portnow, President/CEO of The Recording Academy, commented: "With recordings dating as early as 1909 through the late '80s, this year's Grammy Hall Of Fame entries not only represent a diverse collection of influential and historically significant recordings but also reflect the changing climate of music through the decades. These memorable, inspiring and iconic recordings are proudly added to our growing catalogue — knowing that they have become a part of our musical, social, and cultural history."
Grammy Hall Of Fame inductees 2015 full list below:
Kraftwerk, Autobahn (1974)
The 4 Seasons, "Big Girls Don't Cry" (1962)
Bob Dylan, Blood On The Tracks (1975)
Sonny Rollins, The Bridge (1962)
Harry Belafonte, Calypso (1956)
Abba, "Dancing Queen" (1976)
Neil Young, Harvest (1972)
Hank Williams, "Honky Tonkin'" (1947)
Bobby Fuller Four, "I Fought The Law" (1965)
Fats Waller, His Rhythm And His Orchestra, "Jitterbug Waltz" (1942)
John Prine, John Prine (1971)
Chic, "Le Freak" (1978)
Sex Pistols, Never Mind The Bollocks, Here's The Sex Pistols (1977)
Bonnie Raitt, Nick Of Time (1989)
Fontella Bass, "Rescue Me" (1965)
Bob Wills And His Texas Playboys, "San Antonio Rose" (1939)
Alice Cooper, "School's Out" (1972)
Ornette Coleman, The Shape Of Jazz To Come (1959)
The Dominoes, "Sixty Minute Man" (1951)
Leonard Cohen, Songs Of Leonard Cohen (1967)
Sly And The Family Stone, Stand! (1969)
Willie Nelson, Stardust (1978)
Fisk Jubilee Singers, "Swing Low, Sweet Chariot" (1909)
Paul Robeson, "Swing Low, Sweet Chariot" (1926)
Aaron Neville, "Tell It Like It Is" (1966)
Otis Redding, "Try A Little Tenderness" (1966)
Lou Reed, "Walk On The Wild Side" (1972)