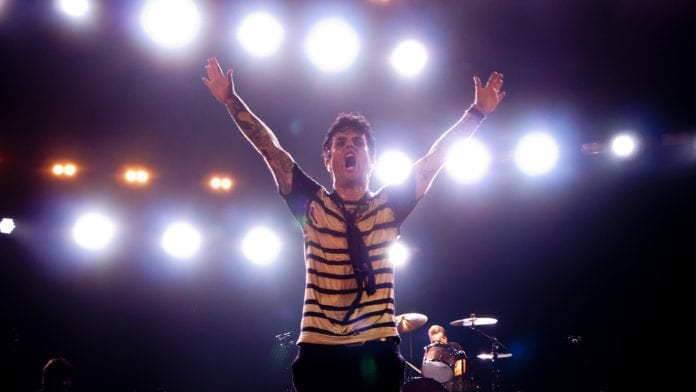 Tonight's Green Day gig at Glasgow's Bellahouston Park has unfortunately been cancelled. The band were forced to cancel the highly anticipated gig due to adverse weather conditions. The rockers performed a massive show this weekend at Hyde Park in London. The gig was part of British Summer Time festival.
The organisers released this statement earlier:
 "We are sorry to inform you that due to adverse weather conditions it is no longer safe for the bands to perform on stage and unfortunately today's show will be cancelled," said organisers PCL in a statement. "Tickets will be refunded from point of purchase within ten working days."
A post from a member of the production team has also been shared on
Facebook. This post stating that there were 'too many production issues' for the show to go ahead tonight, as well as the adverse weather conditions.
Green Day have also released another statement following the Facebook statement, reading:
 "Glasgow, we are very sad to report that our show today at Bellahouston Park has been cancelled. The local Safety Council, production crew, and concert organizers have deemed the stage unsafe for the fans and everyone involved. We are very distraught about this as we are in Glasgow now and were very much looking forward to this show as one of the highlights of our tour. We have been playing in extreme weather conditions throughout this European tour, and the last thing we want to do is see a show cancelled. We love our Scottish fans and we don't care if it's raining fucking sideways, although the safety of our fans and our crew is always our top priority. We love you Scotland, we love the city of Glasgow and it goes without saying that WE WILL BE BACK!"
The band rocked Royal Hospital Kilmainham in Dublin on the 29th of June and the band will continue their tour in Spain this Friday, 7th July.
Photo Credit: stephen h