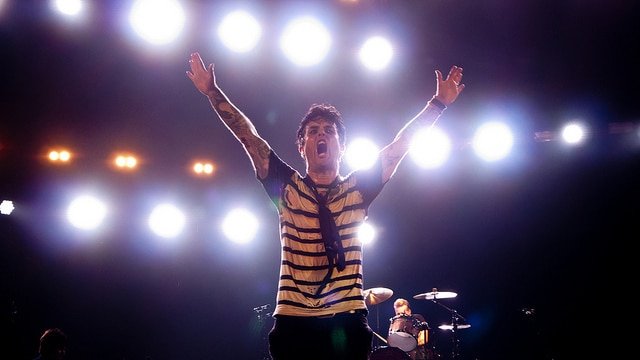 Green Day are returning with a 'Bang Bang' this month. That's the title of the single they are to release next Thursday.
Frontman Billie Joe Armstrong confirmed the news on Twitter and Instagram saying "Dear friends. Green Day is putting out a new single called 'Bang Bang' on August 11. Stay tuned for more details". This will be the first release in 4 years excluding last year's Christmas song 'Xmas Time Of The Year'.
The band previously released trilogy album ¡Uno!, ¡Dos!, ¡Tré! before commencing their short hiatus. Armstrong's stint in rehab limited productivity while bassist Mike Dirnt needed some time off to aid his wife in her battle with breast cancer and guitarist Jason White was suffering with tonsil cancer.
Since regrouping the band have been honoured in the Rock and Roll Hall of Fame and teased potential new releases with Armstrong posting a video of the band recording music in a studio to social media. They also released the film 'Heart Like A Hand Grenade' which explained the story behind their 2004 album American Idiot.
In April of last year, long time producer Rob Cavallo told NME about the bands new material, "Let me tell you, they were just fantastic. He is absolutely at the top of his game…Fans can be sure that when they do return, the music will be amazing".
It's yet to be confirmed whether 'Bang Bang' will feature on a new album or exist as a standalone single.
Photo Credit: SteveHiggs