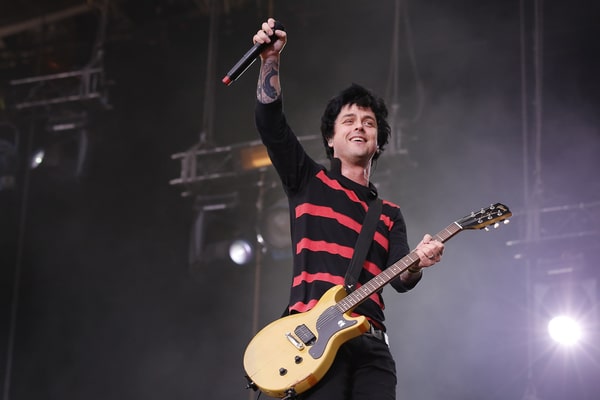 Green Day have shared their new single "Holy Toledo".
Confirming the release of the new track via social media, Green Day said that they were "tearing it up tonight". You can also check it out below.
The band had already released "Here Comes The Shock" and "Pollyanna" earlier this year.
This track begins with frontman Billie Joe Armstrong wanting to visit "where the trouble begins". The song then turns into this energetic and pop-punk number.
Billie Joe Armstrong can be heard singing the chorus, "We're hell raisers/ Death wish cravers/ We're running with razor blades/ Party favours/ Sex with strangers/ We don't care what the neighbours say".
Green Day will be "tearing it up tonight" 
"Damn right we're tearing it up tonight", the band wrote when sharing this track on social media. Check it out for yourselves here.
"Holy Toledo" also features in the upcoming rom-com Mark Mary And Some Other People. Directed by Hannah Marks, the film will hit cinemas in the US today.
On top of this, Green Day also released a 1994 performance of their single "Basket Case". This will feature on their upcoming "BBC Sessions" album which will arrive on December 10.
This album consists of the band's Maida Vaida sessions from across their career in the business from 1994 to 2001.
Back in July, the band also covered KISS' track "Rock And Roll All Nite" during the Hella Mega Tour.
A show which had been rescheduled several times due to the pandemic, also saw Green Day play their own hits including "American Idiot", "Basket Case" along with their celebrated cover "Good Riddance".  These shows also featured Weezer and Fall Out Boy. More on this here. 
Earlier this year, Dave Grohl recalled a time when he saw his mother drinking and socialising with the Green Day band members.
"I gave her a laminate and she would just go and hang out, and I'd be onstage playing and then get offstage and be like, ​'Where's my mom?!' and she'd be drinking beers with Green Day upstairs and hanging out – she's very cool!!", Grohl revealed.