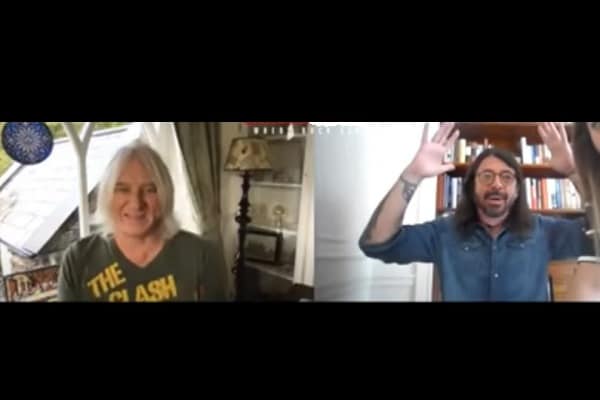 Legends of rock, Joe Elliot and Dave Grohl spoke to one another via video call to discuss Dave's book The Storyteller. This was the first time ever that the Def Leppard and Foo Fighters frontmen met each other, and both legends were super excited.
Planet Rock presenter, Elliot spoke with the Everlong rocker Grohl about how the last year had led both to pursue creative projects. The pair reminisced through rock history and also spoke of their mutual love for Queen, Elliot's memories of touring with AC/DC and Bon Scott, and much more.
Due to release tomorrow (October 5th) via Dey Street Books and Simon & Schuster, The Storyteller allows Grohl to share what it was like growing up as a kid with big dreams. The Virginia rocker also speaks with Elliot on how he lived out those dreams making music on the world stage.
Featuring anecdotes of David Bowie, Joan Jett, Iggy Pop and Paul McCartney, the book also depicts Grohl's time drumming for Tom Petty, going swing dancing with AC/DC, and performing at the White House.
When it came to choosing which stories to include in The Storyteller, Grohl tried to tie all the good stories together on what it is like to be in a band. In a recent trailer for the book, Grohl said he "could write an entire book" about the band he played in such as Nirvana and Scream.
"I could write an entire book about the band SCREAM," Grohl explains. "I could write an entire book about my time in NIRVANA. The idea was to choose the stories that best described what it's like to be behind the curtain and on the inside of the music, from the drum stool looking out. To play music, have this beautiful family, travel the world, meet people from all walks of life, I never take any of this for granted, believe me."
You can catch Joe Elliott every Saturday on Planet Rock, playing great music – accompanied by stories from more than 40 years on the road with Def Leppard. For now, why don't you check out this cool interview of two of rock's biggest stars and get to know Grohl's story.