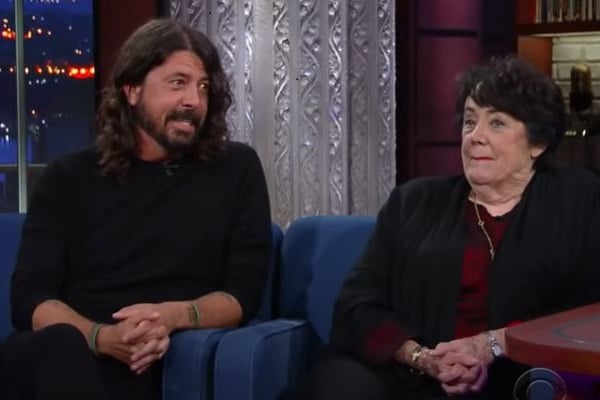 Dave Grohl's show with his mam, Virginia has finally got an official release date, along with a new teaser clip. From Cradle to Stage will follow Dave and his mother, Virginia, as they learn about the relationships of six other musicians and their respective mothers.
The show is a new, unscripted series which explores the relationship between musicians and their mothers. Based on a 2017 book of the same name wrote by Virginia Grohl, it features musicians like Tom Morello, Miranda Lambert, Pharrell, Brandi Carlile, Rush's Geddy Lee, and Imagine Dragons' Dan Reynolds.
Grohl believes the relationship between a musician and their mother "is so important". Dave believes it is "the foundation of their understanding of love, which is surely every artist's greatest muse".
"Having the opportunity to travel the country and tell the stories of these amazing women behind the curtain not only shed some light on the music that they inspired, but also made me appreciate the love that I was given from my own mother, my best friend," said Grohl. "It goes without saying that we are all indebted to the women who have given us life. For without them, there would be no music."
Although the first episode of the series will air in the US on May 6th, there is currently no schedule for Irish audiences. The first episode will see Imagine Dragons lead vocalist, Dan Reynolds and his mother, Christene Reynolds.
When the project was initially announced, Grohl said he was "beyond excited to join in on the next step of my mother's project to explore the stories of other musicians who were as fortunate as me, having been raised by such amazing women. Plus…I owe her one".
Grohl also released a trailer for new documentary, What Drives Us, which explores bands who began their careers touring in vans. The singer and drummer has kept busy, releasing a new Foo Fighters album, hosted a radio show, his new book is set to release this October, and even recently collaborated with Mick Jagger on lockdown song, Eazy Sleazy. No wonder Alice Cooper would love to join his band!
https://www.youtube.com/watch?v=iEv6c_I-75o