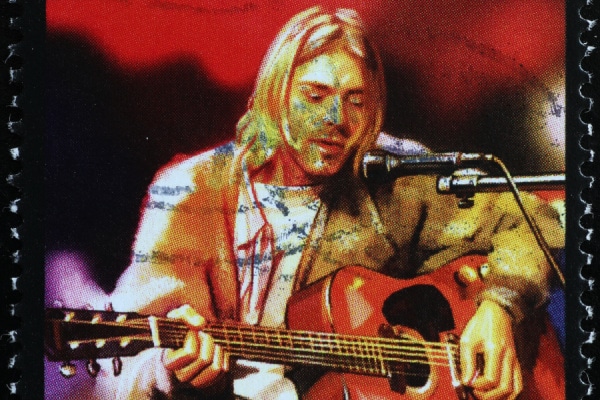 Would you like to listen to the article instead of reading it?
The guitar which was used by the late Kurt Cobain at Nirvana's las ever tour, has sold for over $1.5 million, it has been confirmed.
It was used by Cobain at Nirvana's 'Utero' Tour in 1993-1994, with their final show taking place in Munich, German on 1 March 1994.
Cobain died from suicide in April of that year.
According to Julien's Auctions, the blue Fender Mustang electric guitar was expected to sell for between one and two million dollars.
"For Julien's two-decade anniversary, we're turning it up to 20 with this definitive music auction of a lifetime that encompasses all genres from classic rock, punk, hard rock, metal, progressive, grunge, rap, country, the blues and beyond", the auction's president Darren Julien had said in a statement.
Julien's Confirm Sale Of Famous Cobain Guitar
Releasing a statement since then, the auction house had this to say, "Nirvana played their final show on March 1, 1994 in Munich, Germany and all available concert footage confirms that Cobain played this guitar that night".
Julien's also confirmed that the guitar sold for a final price of $1,587,500.
Elsewhere, the auction also confirmed that a guitar which was owned by Eric Clapton, nicknamed 'The Fool', sold for $1.27 million.
A portion of these sales will also go towards Kicking The Stigma, a mental health charity.
More on this from Nova here.
Last month, Frances Bean Cobain, the daughter of music legend Kurt, married Riley Hawk, son of skateboarding legend Tony Hawk.
The pair obtained a marriage licence in September.