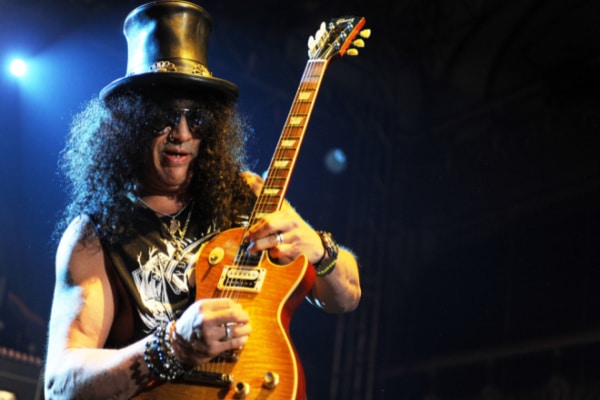 Guns N'Roses' Slash is to become the latest high profile name to feature in an advert championing the use of Capital One Bank cards.
This advert which you can see below, shows Slash, as well as other musicians auditioning to join a band.
Wearing his iconic top hat, Slash begins playing guitar riffs from G'N'R track, 'Sweet Child O'Mine', before he's stopped.
As one dismayed musician watches on, a band leader tells Slash, 'You're In!". To which Slash replies, "Aw cool".
The announcer returns to hype the new banking card, while Slash plays with his new band in the background. The band are performing Guns N'Roses track, 'Welcome To The Jungle'. 
The advert's campaign line reads, "With no fees or minimums and no overdraft fees, banking with Capital One is the easiest decision in the history of decisions, even easier than this", often leading to a particular situation, such as choosing former basketball star Charles Barkley for a pickup match.
Have a look at this advert for yourselves below.
https://www.youtube.com/watch?v=IMz-V8v_6U0
Slash Unsure If He Ever Owned Copy Of 'Appetite For Destruction' Album
Earlier this week, Slash had revealed that he was unsure if he ever really owned a copy of Guns N'Roses' 1987 album, 'Appetite For Destruction'. 
In fact, Slash even admitted that, "If you were to come to my house, you'd be hard pressed to know I was in a band".
He also added, "Or at least any band you had heard of…I don't think I've ever owned the 'Appetite for Destruction' record. And even if I did, I didn't live anywhere, so I wouldn't have any place to put it!".
'Appetite For Destruction' was one of the best selling albums of all time. It sold over 30 million copies. It also featured tracks like, 'Welcome To The Jungle', 'Paradise City' and 'Sweet Child O'Mine'. 
Guns N'Roses also return to touring in September. Tickets are available here.