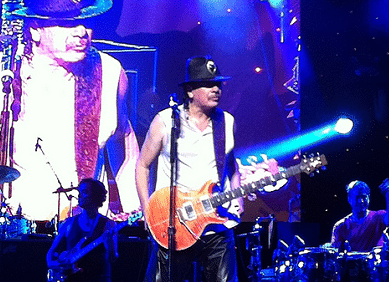 The Mexican-American godfather of rock and Latin music Carlos Santana turns 67.
In May 2014, Santana released his twenty-second studio album Corazón, amazingly it's his thirty-seventh album overall. The album has collaborations from various singers such as Gloria Estefan and Ziggy Marley.
Santana shot to prominence in the late sixties and early seventies, with his trio of albums Santana, Abraxas and Santana III. One of his big breaks came at Woodstock '69, Santana and his band gave a legendary performance. Their exposure widened further upon the distribution of the Woodstock film and soundtrack, that featured the immortal eleven-minute version of 'Soul Sacrifice'.
His renaissance came in 1999 with the album Supernatural, it went 15 times platinum in America and won nine Grammy Awards, including Album of the Year, Record of the Year for 'Smooth' and Song of the Year. The album came 28 years after his last US number one Santana III in 1971, according to the Guinness Book Of World Records, it was the longest gap between US number one albums from the same artist.
Santana is currently on tour with Rod Stewart, and is going to play at the same original site of Woodstock '69. Santana told Rolling Stone magazine:
"I hope we can celebrate the same principles again, which were peace, love and good music, and I hope they have good acid this time." And when asked about his performance on a ton of mescaline at the original Woodstock, he said, "Imagine performing up there on LSD or mescaline or peyote. It was hard for me to even remember anything until I saw the video of it."
Santana discussed the making of a new album with his old Santana band members, the band split up back in 1972. He says:
"We're making Santana IV because we stopped at Santana III. We had three days in the studio and we put a lot of music together. I'm happy to tell you it was just like Led Zeppelin, the Beatles or Jimi Hendrix. There's a chemistry with us. These are the people who were playing with me at Woodstock. It's amazing to light that kind of dimension."
Listen to Santana – Abraxas, on The Classic Album At Midnight, Wednesday 23rd July, On Radio Nova.