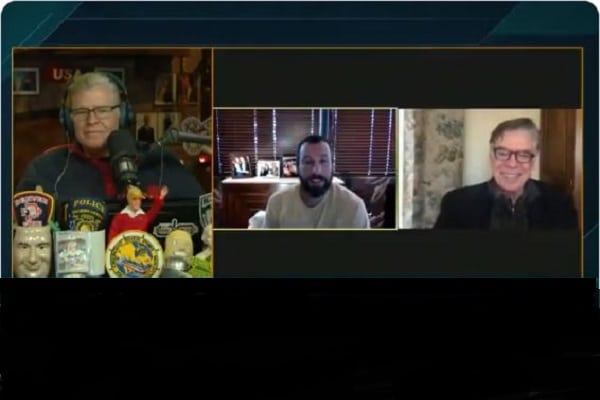 25 years after the original movie graced the big screen, golfing comedy Happy Gilmore is being mooted for a sequel. In a recent interview, Adam Sandler revealed he would love to create the sequel and suggested it would centre around a senior golf tournament.
Sandler spoke with fellow funny man Christopher McDonald on Wednesday's episode of The Golf Channel's The Dan Patrick Show . In the original movie, Sandler played the self-proclaimed hockey star Happy Gilmore, who took up golf to save his mother's house, while McDonald was the perfect comedy villain, Shooter McGavin.
The pair opened up about whether or not there have been any attempts to film a new Happy Gilmore-related project. Sandler denied that it had ever been in talks, but he and McDonald have left the door open for one in the future.
While Sandler denied that it has been discussed, he and McDonald both stated that they would love to shoot a sequel, if it was presented to them. Sandler suggested that the plot of Happy Gilmore2 could revolve around the two characters competing on the senior golf tour. Both actors now fit in the over 50 category, with Sandler being 54 and McDonald being 66.
Dan Patrick asked if both stars were on board, so he could greenlight the film. [Happy Gilmore2] "has not been discussed," said Sandler, "but it certainly has been discussed on the internet. Believe me. That Senior Tour idea it would be so amazing."
McDonald was equally excited about the prospect of a Happy Gilmore sequel and declared, "I am double in! Yes, I would love to do it. Everybody's been screaming for it like Adam said, on the internet. I've gotta say it'd be a complete blast, the Senior Tour with us two? Oh my god." Check out the video below.
Sandler and McDonald recently shared an online battle to celebrate the marking of Happy Gilmore's 25th anniversary. Sandler shared the clip on Twitter, showing off his trademark run and swing, and called out his old arch-rival. McDonald then responded in typical Shooter McGavin style and sank a put in his living room.
"Nice drive, Gilmore. 25 years, huh? Let's see if its Shooter's tour". McDonald proceeded with a delightful shot and mocked Happy for his inabilities. "It's all about the short game," he declared. "Drive for show, putt for the dough!"
Like for Happy Gilmore 2. RT for @ChampionsTour featuring Happy and Shooter.@AdamSandler and @ShooterMcGavin_ joined the @dpshow today. @Peacocktv pic.twitter.com/2OxL1RPIus

— Golf Channel (@GolfChannel) February 24, 2021