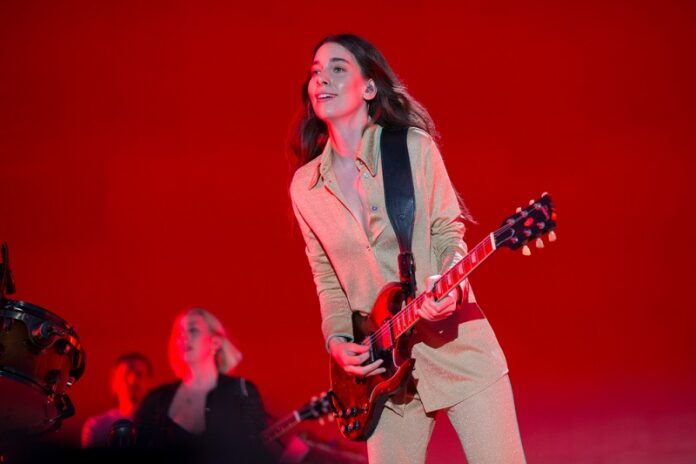 History has been made with the Grammy nominations for 2021 as for the first time ever, all nominees for the best rock performance are female.
In what is usually a male dominated award category, the 2021 nominees are all women who are solo artists or bands fronted by female singers.
The nominees are Phoebe Bridgers for her song 'Kyoto', Fiona Apple for her track 'Shameika', 'The Steps' by Haim, 'Stay High' by Britney Howard, Grace Potter's 'Delight' and the song 'Not' by the band Big Thief.
The nominees were announced yesterday and the ceremony is due to be held on January 31, 2021.
Female artists dominate the Grammy nominations for 2021 as Taylor Swift and Billie Eilish have been nominated for four and three awards respectively. Both Beyoncé and Dua Lipa have five nominations.
This means that Beyoncé is tied in second place with Sir Paul McCartney for most nominations with 79. Beyoncé's husband Jay-Z and artist Quincy Jones hold the record for most nominations with 80.
Swift, Eilish, Lipa and Beyoncé are all nominated for best song of the year. Meanwhile the award for best rock song include Bridgers, Howard, Apple, Big Thief and Tame Impala. This means that this category is 80% female.
Canadian musician The Weeknd has hit out at the Grammys saying they "remain corrupt". The Weeknd was not nominated for any award which is surprising considering he has broke numerous records for streaming and chart positions this year.
Recording Academy Chair Harvey Mason Jr. responded to The Weeknd in a statement, saying, "His music this year was excellent, and his contributions to the music community and broader world are worthy of everyone's admiration. Unfortunately, every year, there are fewer nominations than the number of deserving artists."
One band having fun with the Grammy nominations are The Killers. The Las Vegas band were not nominated for any category. Instead of complaining like other artists, The Killers took to Twitter and poked fun at US President Donald Trump. Check it out below.
OBSERVERS WERE NOT ALLOWED INTO THE COUNTING ROOMS. WE WON THE GRAMMYS, GOT LOADS OF LEGAL VOTES. BAD THINGS HAPPENED WHICH OUR OBSERVERS WERE NOT ALLOWED TO SEE. NEVER HAPPENED BEFORE. DOZENS OF BALLOTS WERE SENT TO PEOPLE WHO NEVER ASKED FOR THEM! #RIGGEDGRAMMYS #WEWON

— The Killers (@thekillers) November 25, 2020
Last month, Therock.ie posted its top 10 female rock singers of all time, you can read all about it here.