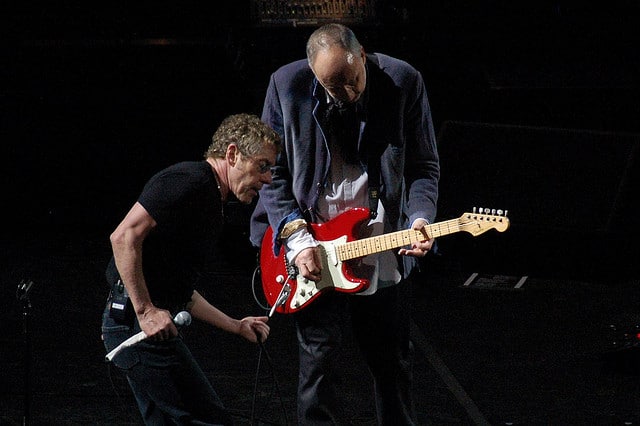 The Who has hit back at Kanye West after he claimed that he was "the biggest rockstar on the planet" during his Glastonbury set. While during The Who's headline performance last night, Pete Townshend had a few words to say.
The band arrived late for their headline spot entering 15 minutes later than the expected time of 9.15pm, after they pushed their set forward from 9:45pm. Behind the band as they entered was a sign reading 'Keep calm, here comes The Who'.
When they eventually did come on stage Townshend proclaimed "Here we are again. We've got a lovely, simple job to do tonight which is to send you home happy and maybe a bit deaf. So here we are." Then the band launched into 'Who Are You?' before going into another classic with 'The Seeker'.
During 'Baba O'Reilly' Towshend introduced the band, but had some choice words to say about the set -up "it could have been better, but it's as good as it can be. It would have been better if we'd been able to soundcheck".
The band finished with their classic rock anthem 'Won't Get Fooled Again'. As the song came to a close, Townshend asked "who's the biggest rock star in the world?" causing the crowd to erupt in applause.
Photo  Credit: Scott Ableman