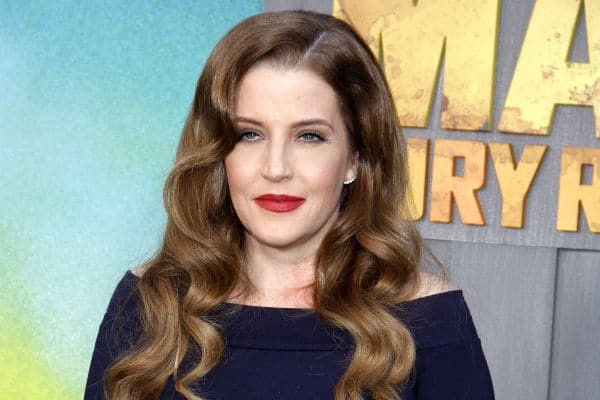 Guns N'Roses frontman Axl Rose and singer Alanis Morissette were among several household names to pay tribute to the late Lisa Marie Presley at her memorial service yesterday (January 22).
The singer died earlier this month after suffering a cardiac arrest at her home. She was 54 years old.
Lisa Marie Presley was the only daughter to music legend Elvis Presley and his ex wife Priscilla.
At the memorial which was held on the front lawn of the Presley family home at Graceland, Lisa Marie's mother Priscilla led the eulogies, by reading a letter which was written by her late grandson Benjamin Keough.
"I have no idea how to put my mother into words. Truth is there are too many", it read. "mama was my icon, my role model. Even now I can't get across everything there is to be understood and known about her". 
Priscilla also recited a poem written by Keough titled 'The Old Soul', where she spoke about Lisa Marie's "survivor's guilt" following Benjamin's death in 2020.
"A broken heart was the doing of her death. Now she is home where she always belonged… The old soul is always with me". 
"fiercely protective"
The memorial service also saw the likes of Axl Rose, Alanis Morrisette and Smashing Pumpkins' Billy Corgan pay special tributes to Lisa Marie Presley.
Before performing a solo piano cover of Guns N'Roses' 'November Rain', Axl Rose spoke about Lisa Marie in a special eulogy.
"I do know Lisa loved her family very much, and was fiercely protective of her father and his legacy", she said. "I never in a million years imagined being here, singing under these circumstances". 
Rose had previously paid tribute to Lisa Marie following her death. See here.
Check out that performance below.
Axl Rose singing "november rain" at Lisa Presley memorial pic.twitter.com/io9RGnEMDg

— ؘ (@axlrosedaily) January 22, 2023
Elsehwere, Alanis Morrisette performed a live cover of the track 'Rest', the same song she debuted for Linkin Park's Chester Benninghton's memorial in 2017.
Smashing Pumpkins' Billy Corgan performed 'To Shelia' from the band's 1998 album, 'Adore'.
Billy Corgan had previously collaborated with Presley on 2003's 'Saviour'.
Lisa Marie Presley's memorial service also saw performances by the Blackwood Brothers, the Tennessee Mass Choir, the latter of whom were also friends of Elvis before his death.
Along with Priscilla's tribute, Keough's husband Ben Smith-Peterson also paid tribute, by reading out another letter written by Keough.
"I am eternally grateful to have spent 33 years with you", it read.
"I'm certain I chose the best mother for me in this world and I knew that as far back as I remember you and I remember everything".