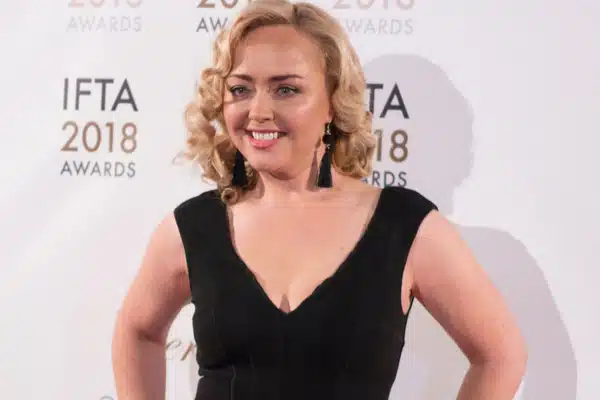 Angeline Ball has said that she loves being recognised for her role as Imelda Quirke in The Commitments. 
The Irish actress starred as the stunning Imelda Quirke in the 1991 comedy drama, which was inspired by Roddy Doyle's famous novel of the same name.
Angeline Ball had been speaking to Emma Forsyth's on A Little Foresight Podcast. This podcast asks people what they would say to their younger selves.
The mother of two revealed that she wished she was more confident in her youth. Ball did also admit that she struggled with the instant fame when the film was initally released.
"It's bizarre"
However, the actress who is currently starring in Netflix hit Deadly Cuts, insists that she is thrilled when fans recognise her as Imelda Quirke.
"It was so iconic in Dublin. I think people of my generation do but I dont think younger people would recognise me", she said.
"It's bizarre where I get recognised. I was down in Ennis filming the rest of Hidden Assets, and a friend had come down to me. I had a ponytail in my hair, I had the mask on and I had sunglasses on". 
Ball continued, "We were looking at something in a lovely stall, and a fella says to me, 'come here, are you the one from The Commitments'?". 
"I think when I was younger, it would have annoyed me a lot, and I think that's why I went against the grain and did more artsy kind of films to prove I wasn't Imelda".
"I find it kind of funny now that there's enough years in between. It's a compliment, and it's nice for someone to compliment me on the role and on the film". 
"youth is wasted on the youth"
While she is relaxed and confident in her own skin, Angeline Ball admits that she wished she had such confidence when she was younger.
 "I'm a big believer that youth is wasted on the youth, I think of all those days where you didnt wear those jeans because you thought you looked fat in them, or that your hair wasn't nice or your skin didn't look good, or your teeth were wrong", she said.
"All of those things you could tell yourself, I would just turn that volume down a bit and just say look, have a bit of confidence in yourself, look at the positives you have in yourself".
Ball did also reveal that she wished she attended counseling sessions when she was younger, following the death of her father when she was 12 years old.
"It's very pro mental health these days which is brilliant. I wish that was available to me when I was a kid", she said.
"My father passed away when I was 12 very suddenly, and had there been the kind of availability online, of course there was no internet back then, but had that been there, or that my mother would have been aware of maybe bringing me for a bit of counselling or something, that would have been amazing". 
"That's why I really encourage my kids to talk, I often to say to them 'do you need to talk to someone else instead of me'". 
"the next job coming in"
Since the Commitments, Angeline Ball has recently starred in RTÉ Crime Drama Hidden Assests. She has also starred in Netflix comedy Deadly Cuts, which is the current number one film to stream in Ireland.
When she is waiting on offers, Angeline Ball has also taken to teaching Pilates from her home in London.
"Instead of sitting at home wondering when is the next job coming in, I took the course and I had to study, it's not just learning the moves, it's pretty intense", she said.
"I really enjoyed it and I enjoyed taking myself out of the acting world and now I love it. I really enjoy it and I love when people enjoy the class".