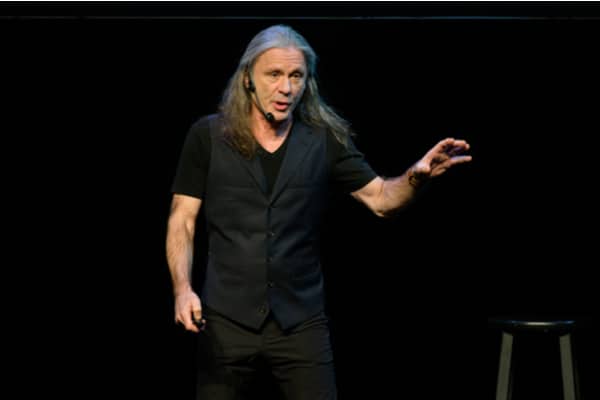 Having recently tested positive for Covid-19, Bruce Dickinson has urged people to "get vaccinated".
Last month, the Iron Maiden frontman tested positve for the virus. He was forced to postpone the final dates of his spoken word tour in the UK.
Dickinson had been due to perform in Birmingham on August 9 and London on August 10. The shows have been rescheduled for October 16 (London) and October 17 (Birmingham).
"I could be in serious trouble"
The Iron Maiden frontman said he had been feeling a "bit groggy" and had compared his symptoms to "kind of like the flu". 
"I've pretty much got no doubt that had I not had the vaccine, I could be in serious trouble", he told Yahoo! Music. 
Dickinson once again insisted that it is vital that people get vaccinated against the virus. He also added that if he had not been vaccinated, he would have been "more sick".
"My belief is — and I stress, it's a belief — that this proves that I would have been more sick if I've not taken the vaccine", he said. "I mean, I had both jabs. Everybody I know has had both jabs. And I'm quite happy about it".
Dickinson also said that he "honestly [finds] it incredible that some people are still resistant [to vaccines]…I would say, just get vaccinated. And if you do get sick, you won't get that sick. It'll just be like a mild case of the flu". 
Meanwhile, Dickinson's band Iron Maiden also announced their first new album in six years Senjutsu.
The album had been recorded in Paris by producer Kevin Shirley as well as being co produced by Stephen Harris.
"We're all really excited about this album", Dickinson said of the album during a press release.
"We recorded it back in early 2019 during a break in the Legacy tour so we could maximize our touring yet still have a long set up period before release to prepare great album art and something special as a video. Of course the pandemic delayed things more — so much for the best laid plans — or should that be 'strategies'!?".